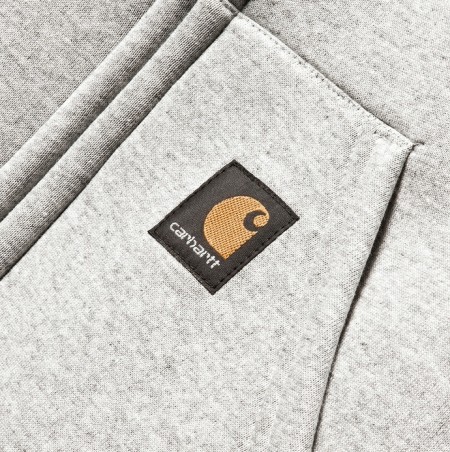 To its owner, a hooded sweatshirt is a lot of things. It's comfort wear. It's work wear. It's keep-you-warm-in-the-cold wear. It's sit-around-the-house-cause-it's-the-weekend wear. Come to think of it, it's even been the star of a Saturday Night Live skit. (Red-hooded variety only). Odds are, you've never stopped to think about what it is about a sweatshirt that makes it the perfect attire for any occasion. (OK, not any occasion; if your friend is getting married, you might want to opt for something a little more formal). But if you ever did have some time to kill, and thought about it, you'd realize that it's actually a combination of several things that makes a hooded sweatshirt such a glamorously simple garment. It's the comfort. It's the flexibility. It's the durability. And it's the warmth, which they somehow manage to pull off without the added bulk. And nobody does that better than Carhartt.
The Men's Men's Car-Lux Zip-Front Hooded Sweatshirt by Carhartt is back by popular demand for Fall 2012. Offered in Black, Navy and Charcoal, the relaxed fit makes for a familiar and comfortable feel the moment you put it on. This Carhartt sweatshirt might feel like it's perfect for lounging around the house (and it is), but it also is a great work style, with design and features that makes sense for the working man or woman, and make working while wearing it as comfortable as the cloth itself.
This Carhartt thermal hooded sweatshirt is designed specifically to provide insulation against the elements, as well as warmth — but without the bulk you'd normally associate with an insulated hooded sweatshirt.
Carhartt is able to pull this off by utilizing its classic Carhartt styling and construction. What that involves is using Car-Lux midweight 10.5 ounce fabric that is made out of 100% cotton. This uniquely Carhartt sweatshirt features a jersey-knit shell with polyurethane insulation and flocked-nylon backing. That's the secret to the warmth without bulk. And to make it comfortable and durable, these Carhartt Car-Lux sweatshirts also feature spandex-reinforced rib-knit cuffs and bottom band.
And, of course, there are the three signature features that make this Carhartt sweatshirt what it is: The full-length nylon front zipper, the two front hand-warmer pockets, and the attached hood with an adjustable draw-cord closure. With a Carhartt thermal hooded sweatshirt, you'll stay warm, you'll stay comfortable, and you'll stay cool. (As in, stylish. Not, you know, cold).
The Carhartt Car-Lux sweatshirts are available in four different colors: Black, navy, carbon heather and army green. For a full selection, visit Workingperson.com. This product will begin shipping out on Sept. 1, 2012, so watch for them then! Do you want a Carhartt sweatshirt right now? Then scan through our current Carhartt Sweatshirt selection! Did you know Carhartt makes boots too? Check out Carhartt boots now!