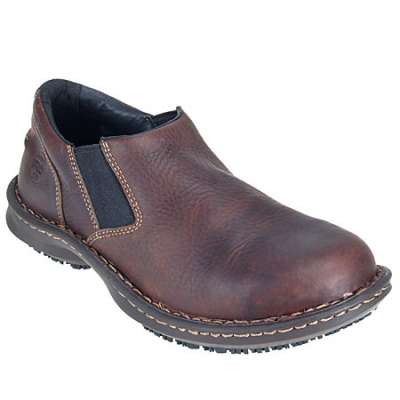 Static dissipative footwear (ESD) is designed to protect you against hazards, due to really low footwear resistance, while keeping a high enough level of resistance to reduce the possibility of electric shock. And to qualify, the footwear has to have a lower limit of electrical resistance of 106 ohms and an upper limit of 108 ohms.
Put simply, ESD work boots reduce the amount of static electricity that can build up in your body.  But unlike Electrical Hazard (EH) work boots, ESD boots can be either steel toed or soft.  They actually conduct static electricity through the linings, the insole, outsole, and into the ground.
And so you can be sure what you're pulling onto your feet before you set out to work, ESD shoes or boots will have an "SD" clearly visible on the ASTM label sewn inside them.
But there are some pretty tight rules around modifying, or altering your ESD work boots too.  First, you can't add your own insole to the shoe because unless it's explicitly an ESD insole, static electricity can't flow through it. Also as a guide to keeping safe, try to keep the floor and the bottom of your ESD work boots as clean and free from dust as possible, this means the static electricity can dissipate properly, flowing straight through the sole and into ground. Continue Reading…