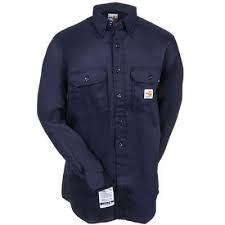 Flame resistant (FR) clothing saves lives because it significantly reduces burn injury, gives the wearer escape time, and increases chances of survival. Providing FR clothing demonstrates management's commitment to safety and employee well-being. It can improve morale, as well as increase safety.
FR clothing can only provide protection if the wearer follows garment manufacturers' recommendations for proper use:
Wear garments properly – collars closed, sleeves and cuffs down and secured, shirt tails tucked, closures secured, and other manufacturer recommendations.
Wear looser-fitting garments that provide adequate mobility.
Do not wear non-FR clothing over FR garments. The outermost layer must be FR
Wear only FR or non-melting undergarments (e.g. cotton, silk, wool.)
Wash garments thoroughly after each wearing to remove contaminants.
Do not put on or take off the garment in proximity of flammable gasses, vapors, dusts, or in other potentially explosive environments.
In potentially explosive atmospheres, proper grounding procedures must be used.
Wear garments with the appropriate arc rating as dictated by an electric arc hazard analysis. Consult employer if unsure.