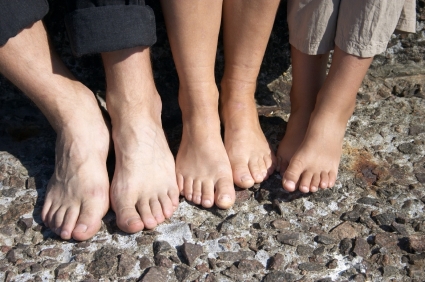 The difference in length of 1/3 inch applies to men's, women's and children's footwear. A problem with the system involves the way it was developed. The sizing scales for each gender are different. You can even find differences in American versus European sizing, but that different topic. Unfortunately, in America we do not start with a small number for length in children and go to the largest number for men.
Children's sizes start at 0 and go to 13, then start over with Size 1 and usually go to 4. Men's length sizes can start at Size 4 and normally go all the way to 16, while women's sizes may start at 2 and go to 12 or 13. These length sizes vary, so to properly measure and fit, you should use a measuring device and inventory for the particular grouping you are fitting.
One constant you will notice in men's and women's sizing is the difference of two sizes. That is, on the shoe size scale comparison, a man's 8 will be the same length as a woman's 10. But remember that this is only toe length. When fitting, keep in mind that the lasts are probably designed differently for the male or female foot.