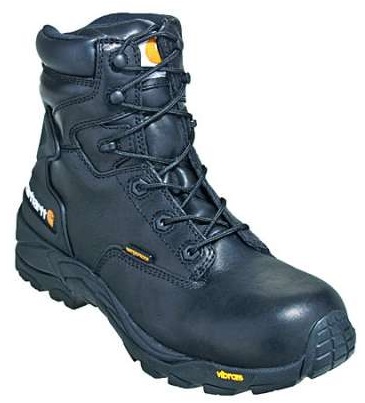 If Donna Summer's song about "working hard for the money" is your personal anthem, then Carhartt Men's 6-Inch Black Non-Safety Blucher Work Boots CMH6111 and Composite Toe version CMH6311 are perfect for you. Not only are these Carhartt boots durable and waterproof, they're also lightweight and comfortable. Carhartt takes great pride in any product they offer to their customers. That means their Blucher work boots are no exception to their extensive quality in product.
On the outside, these 6" Blucher boots have black, oil-tanned, full-grain leather uppers. Any job can get sweaty, so the leather in these work boots gives breathability with pores that allow fresh air into them. Since leather is resistant to oil, chemical spills, and water, Carhartt added a durable Vibram rubber outsole that boasts the same endurance for the bottoms of your boots. Mother Nature will have to wait another day to mess with you. In addition to its tough nature, this outsole, cemented with an EVA mid-sole, is shock resistant to keep you even-keeled throughout the day. That sturdy bond also allows these boots to be more flexible, making any unforeseen situation at work totally manageable. Because of the attention to detail, these Carhartt boots ensure nothing will ruin your day.
On the inside, Carhartt Blucher boots deliver maximum comfort and performance. An OrthoLite insole combined with a TPU heel counter and Achilles flex joint give your feet a pampered feel while giving your foot a stable support. This insole is also antimicrobial to keep these boots long-lasting and fungus free. The OrthoLite comfort tongue is an added bonus that keeps your ankles padded for a pain-free day full of endless reinforcement. Because these work boots are non-safety, they also are distinguished by their light feel. That's one less thing you have to worry about on your busy work day.
Carhartt Men's 6-Inch Black Blucher Work Boots CMH6111 and CMH6311  support your feet and body in comfort and style as you work hard for the money. All you have to do to achieve this little luxury is add it to your cart. Visit Workingperson.com for all your work footwear and clothing needs!