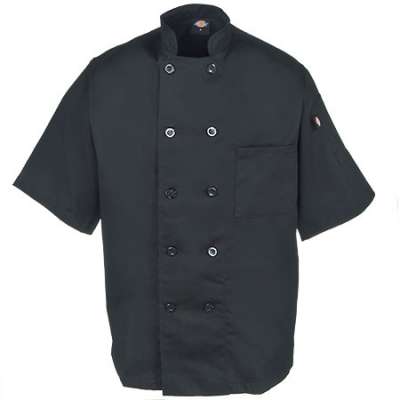 Things in life aren't always black and white – unless you're talking about Dickies new range of chefs clothing, that is. Because in this case – everything's black and white. And that's just the way they like it! It means your whole team, big or small, will look the part. And it's that special history of a brand that listens, learns, and gives different workers the clothes they need to get the job done. And Dickies is a brand that does exactly that – every time.
So when we heard about the Dickies Chef range, we thought we'd take a closer look – and see exactly what they'd cooked up.
Dickies – already a leading workwear manufacturer – is usually more renowned for its hardwearing overalls and outdoor gear, but they also apply the same technical expertise and high standards of manufacturing to their chefs' workwear too.
Look at our special page on the Dickies Chef range and you'll find comfort and performance fabrics everywhere – made and designed for the job you do, whether it's in the kitchen or out on the floor. Made from a tough and durable polyester cotton mix – the same fabric used in the construction of their overalls – these garments are ready and able to stand up to frequent splashes and repeated washing!
But nothing here is just about the toughness of the fabric, these garments are still comfortable to wear too. The range we stock includes different styles of coats, chefs trousers, different types of aprons and chef shirts – all black and white, so it's easy to co-ordinate your look.
And that's another great thing about this range – however big or small your operation is, you can be sure that everyone out there on the floor or in the kitchen is going to look the part and represent you in the very best and most stylish way possible. And if you are looking to buy in quantity, the price goes down the more you buy! Save money and have your team be stylish all at the same time!
Pockets for your thermometer, stain resistant fabric mixes, snap fastenings, and pearl buttons – the neat design and classy delivery you'd expect from a workwear legend like Dickies.
Combining traditional designs with modern workwear manufacturing expertise, Dickies has produced a selection of durable workwear for the catering industry – and it's all right here at Working Person's Store!