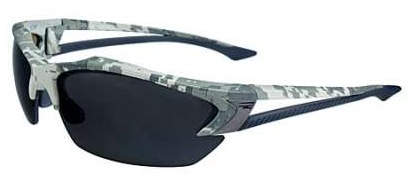 How do you protect yourself when you don't even see it coming? With Edge Eyewear, the leading producer of rigorously tested and proven safety eyeglasses, they've got you covered in any situation.
With more than 10,000 eye injuries EVERY DAY in North America alone, it's important to be very choosy about protecting one of your most valuable assets – your eyesight.
Sporting an impressive 100% effective repellent rate with a test of 6 shots from a nailgun within 5 seconds as seen here, Edge's exclusive polycarbonate lense formula was the first to become compliant with ANSI's (American National Standard Institute) strict requirements.
All safety glasses are tested with independent laboratories for compliance with ANSI's current Z87.1-2010 designation in addition to military ballistic specs. These tests run from high mass impact to simulating a shotgun blast at 660 ft per second. This may seem extreme but taking into consideration that 63% of eye accidents happen away from the workplace, it's important to test for any and all situations that you may find yourself in.
Technology aside, these aren't your dad's 'safety goggles'. These are sleek and contemporary without sacrificing the quality you require. One look at styles such as the Khor TSDK21 in Digital Camo or the Kazbek TSKAP218 with Mirror Lenses and you'll see that these are perfect safety complement to your life.
In addition to the rugged durability and good looks is the wide array of lens options. With over 15 standard styles and two special optics utilizing the same technology that NASA enjoys, there's a lens and coating for every natural and working condition. Additional solutions such as adjustable nose bridge structure, vapor shield, anti-fog, polarizer, and prescription lenses help to make Edge Eyewear a no-brainer in your search for indestructible safety eyewear.
It is said that Edge Eyewear provides safety glasses that beat out the rest of the competition. That's why Working Persons's Store carries nearly 30 Edge Eyewear products. They also carry other safety glasses brands like Wiley X, Pyramex, Radians and more for all your personal and working needs.