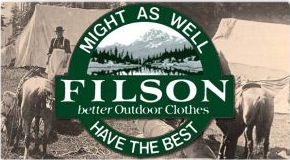 Filson is fond of a particular saying. It's not an overly complicated or clever saying, but it's an important saying, and it speaks volumes about what the company stands for. Filson likes to say that it searches the whole world over in an effort to find the best craftspeople capable of making the best Filson garments and tools. And, the saying goes, that search usually ends at the same place it started — Filson's own factory. Which is, of course, in its home city of Seattle in its home country of the United States. Filson is particularly proud of its Made in America products, and that pride is reflected in everything it makes and sells. The company has been making garments in Seattle since 1897, when it started outfitting pioneers for treks into the wilderness of Alaska. These pioneers would be gone for years at a time, and were relying on Filson to keep them protected and prepared for the elements.
That pioneer spirit that the Filson was founded on is also reflected in its newest products, which it is just rolling out. The new Tote Briefcase (70258) incorporates features from two of Filson's most popular pieces of luggage and combines Rugged Twill and Tin Cloth, two of the company's signature fabrics. The Tote Briefcase offers durability and performance in a distinct new look. Another exciting new product is the Short Cruiser Jacket (10043). Inspired by classic trucker designs, the short cruiser jacket is made with Oil Finish Tin Cloth, to create a jacket that is both stylish and armor-strong. It is cut in the leaner, new Seattle Fit, which means it fits close to the body and softens with each use. Another great new product is the Light Hunting Vest (10060). It is a soy-waxed alternative to Filson's Original Hunting Vest and includes the same features as its predecessor, but in a lighter, versatile weight.
Filson is a company that was built to last, just like the products it makes. Many of Filson's employees have been with the company for decades, so they know the products inside and out, and that level of experience, expertise, and attention to detail is present in every Filson jacket or shirt or bag you own. Those jackets and shirts and bags have all been made with the same fabric from the same supplier for decades. They still have their same fits, too, however, some new fits of Filson's shirts have been added to the collection. So the same quality Filson jacket your dad bought 20 years ago (and still wears because, well, it's still a nice jacket) is still made with the same quality materials and craftsmanship today. If it's not broken, why fix it, right? Filson is proud of its heritage, and that's something it will always carry proudly.
That same pioneer spirit is also present in Filson's new new global headquarters, which the company recently opened up in an old warehouse. It is an impressive new, state-of-the-art 57,400 square-foot manufacturing facility and office space, in a setting as unique as the products imagined, created, and manufactured there. In keeping with the pioneer spirit it was founded upon, Filson is a company that seeks to continue to pioneer the American outdoor person into the future. Whether you live in the city and are walking a dog or going to work, or are out in the extremes of Alaska, it's the same product, built to last. Each and every Filson product made in this warehouse is stamped with a tag that says "Made in USA" and "Seattle." It's a company proud of where it comes from, proud of where it calls home, and proud of where it's going. And you can feel that pride too. Visit Working Person's Store to get the latest Filson products today.