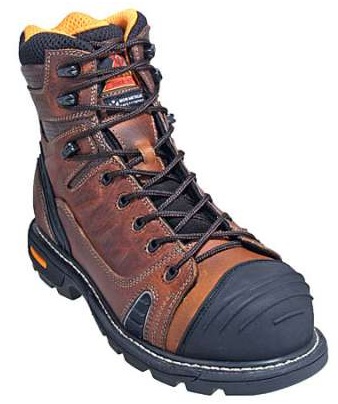 Ultra-light is a manner of personal taste in juice, beer, yogurt and other edibles, but when it comes to a light on your feet at work feeling, there's nothing but Thorogood athletic work shoes with GENflex2 Tactical VGS Sole Technology to guarantee that feeling, day after hard pounding days on your feet.
The GENflex2/VGS Technology combines premium materials with an exclusive, net fit flexible welt construction for maximum comfort.  Like walking on Cloud 9 (or more), it's because Thorogood's work shoe and sole technology comprises 11 layered components to create the outsoles and mid-layers of their footwear.
Closest to your foot is high density polyurethane removable footbeds; under this is a high density EVA footbed for added comfort, which is further supported by GENflex2 board with double EVA cushioning (yes, more of the good stuff!) and GENflex2 flexible forefoot cushioning.  The Thorogood Footwear technology takes into consideration movement, stationary position, weight and pressure, and other featured layers include a flesible insole rib, a welt channel cushion (more!), the layer containing the InterActive Visible Gel Syste (VGS) in the heel that won't break, a built-in composite shank, and a molded EVA midsole flex channel.  Rounding off that Cloud 9 Plus feel is the oil and slip-resisting rubber outside and the multi-directional traction lug designed bottom.  No wonder the Thorogood tactical footwear is all about comfort!