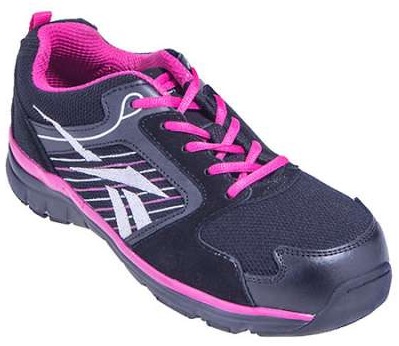 If you are an athletic woman or always plans for some adventurous endeavors then Reebok Women's RB454- Anomar Athletic Safety Tennis Shoes are perfect for you, as Reebok's slogan also says "LIVE WITH FIRE".  Reebok is a well-known brand for quality and comfortable sports shoes and apparel for men, women and kids. It provides exciting accessories for all those who are adventurous and highly spirited.
The new Anomar RB454 ladies' compact toe athletic shoes are a true comfort story from Reebok. The more you know about its comfort features the more you rush to buy it because these shoes are loaded with amazing features. Sprightly color schemes and girly looks of these shoes are eye-catching, after all aesthetics matters a lot when it comes to women's accessories.
This is a bestseller shoe from Reebok Safety, because it is offering all the features that a strong woman would desire. Its EVA outsole is very lightweight and allows for great comfort and flexibility, so that you do not feel weighed down on your task. If you have to run or walk for many hours then you can pick on these athletic shoes because with an extra wide toecap it will provide you with an extra all day comfort.
The Anomar is an ESD shoe, which is employing Reebok's patented fail-safe dual resistor technology to keep you safe from any foot injury, so now you can win the world with no fear. Moreover, these athletic shoes are also improved in their durability features and be with you for a long time without any worn out signs.
Now run, walk and dance, without any concern for your foot, stay focused and successful because Reebok Safety wants you to rise and shine. Strong women have strong choices like Reebok Anomar RB454 athletic safety shoes, so visit WorkingPerson.com and buy one pair for you; after all, you aim high!