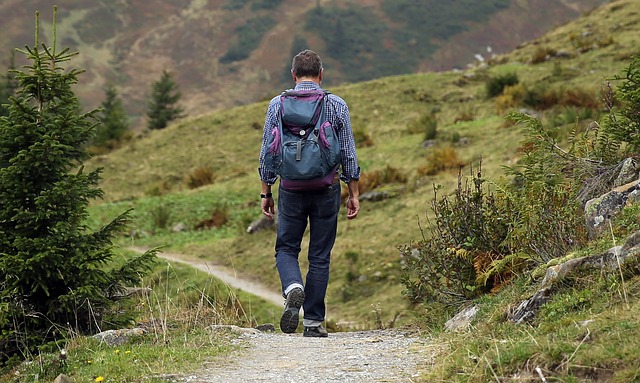 Whether you're an avid trail-blazer or a casual Sunday walker, chances are fall is your favorite time to explore the outdoors. The cooler weather and changing leaves make hiking a perfect activity and form of exercise. Be prepared for the season and many to come with these six boots from Working Person's Store:

Wolverine Men's Brown 5103 Waterproof Spencer Mid-Cut Hiker Boots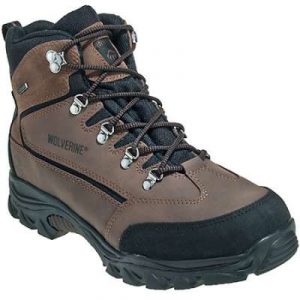 Take in the view from the top with dry and comfortable feet in your Wolverine's 5103 Men's Spencer Waterproof Brown/Black Hikers.The waterproof Nubuck leather and nylon uppers are resistant to moisture and the durable ribbed mesh lining wicks it away so your whole foot is protected. Slip in the full-cushion footbeds for maximum comfort with every step — then slip them out when they need a breather. You'll have the arch support you need to tackle any peak with the nylon shanks. The sole is crafted with a lightweight, cement construction that will keep you light on your feet. The rubber cup outsoles protect toes from abrasions from rocks or limbs so that your boots will stay fresh mile after mile.
Wolverine Men's 5745 Wilderness Waterproof Hiking Boots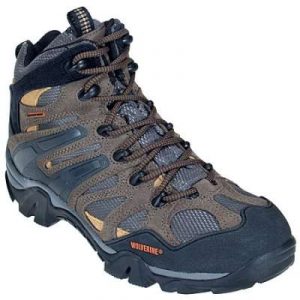 Stay steady on your feet with the Wolverine Men's Waterproof Mid Gunmetal/Tan Hiking Boots 5745 made with rubber lug outsoles to give you excellent traction no matter what surface your feet have to lead you to. Inside the sole, is a lightweight, nylon shank that fights foot fatigue. The waterproof, suede and mesh uppers provide durability and breathability. The durable, ribbed mesh lining will help keep moisture away. The full-cushion insoles distribute shocks on impact so you won't have to "call it a day" due to discomfort. Made with cement construction, these boots give you the agility of athletic shoes in a sturdy, protective hiking boot.
Danner Men's 45364 Tan GTX Waterproof Hiking Boots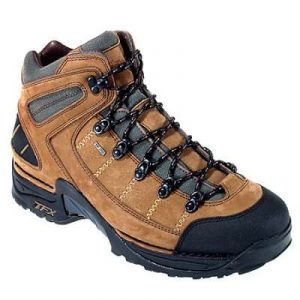 Named a "Best Buy" in Backpacker Magazine's annual gear guide, Danner Men's 45364 Dark Tan GTX Hiking Waterproof Work Boots will make you want to trek through tough terrain every chance you get. The slip-resistant, Terra Force X (TFX) outsoles alone will keep you at the front of the pack by giving you solid footing and reliable traction. They also provide downhill braking, sidehill traction and improved acceleration that doesn't weigh you down. The tan leather exterior with black and gray laces and detailing give these boots an advanced level of style. They'll keep their good looks, too, with the abrasion resistant leather, durable Nubuck uppers, and scuff-proof toe caps. The breathable, waterproof interior lining lets moisture escape while blocking water from entering so you'll stay dry and cool.
Danner Men's 47000 Brown Waterproof Instigator GTX Hiking Boots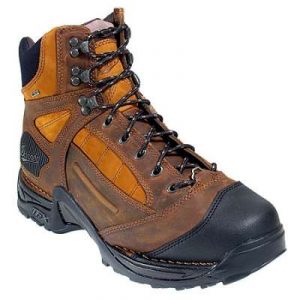 You'll say yes to braving the outdoors no matter what's in the forecast with the Danner Men's 47000 Instigator GTX Brown Waterproof Boots. Offering guaranteed waterproof protection, these boots come with Gore-Tex interior booties to keep your feet dry. The full-grain leather and Nubuck uppers allow air to flow in, keeping your feet exceptionally cool. The rubber, TFX soles are slip resistant and provide improved acceleration as well as downhill and side hill traction. Don't let your love hiking take its toll on your feet — invest in boots like these with resilient TPU shanks to give you outstanding arch support. The shanks are built to maintain torsional rigidity too, so you still have the freedom of motion you need to stay spry. Terra Force X Platforms are designed to heighten your heel-to-forefoot energy transfer, which reduces foot fatigue. The beveled lugs prevent debris from building up and the scuff-proof toe caps resist abrasions.
Carolina Men's Waterproof EH CA4025 Brown Hiking Boots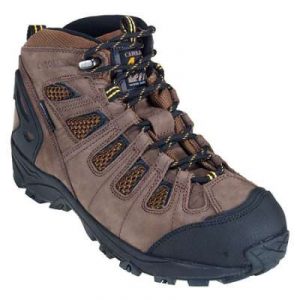 Carolina Men's CA4025 Dark Brown 4X4 Waterproof EH Boots will guard your feet on the job or in the outdoors with their slip-resistant treads, EH rating, and lightweight, non-metallic shanks. When you're on your feet all day you need comfort features you can rely on, and these boots will deliver. They come with soft, pillow cushion insoles that absorb shock and impact. The removable, polyurethane footbeds are shock-resistant as well. The lightweight EVA foam creates the cushioning midsole layers. Waterproof SCUBALINER membranes surround the interior, protect your feet from moisture. Abrasion-resistant toes keep the leather from scuffing.
Merrell Men's Waterproof J88623 Vibram Sole Brown Hiking Boots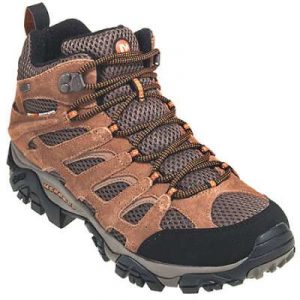 Slide into your Merrell J88623 Brown Moab Waterproof Men's Hiking Boots with the easy pull tabs and you'll be ready for a day on your feet. The breathable, lightweight mesh uppers let heat escape so your feet can stay cool. The mesh design throughout the boot's exterior is reinforced with flexible Dura leather to create a supportive framework for your feet. The synthetic leather toe caps and heel counters prevent scuffs and wear. To give you even more protection, waterproof membranes line the boot's interior. Thin membranes are treated with Aegis antimicrobial solution to kill unwanted odors and bacteria. For ultimate comfort, contouring Ortholite will cushion your steps. Made with QForm comfort technology, the air-cushioned EVA foam midsoles are designed to cushion your stride against impact. More air cushioning in the heel absorbs impact in your foot's strike area.

Be ready to blaze the trail with these styles and more at WorkingPerson.com.
What is your favorite hiking shoe? Share with us in the comments.