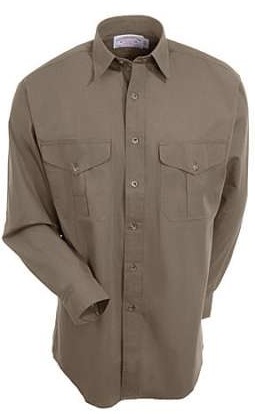 Filson is a brand that has been around for ages. With that time they have found just the right touches to add to their products, making them, often, lifetime partners. The new and improved shirt styles, along with their old traditional ones demonstrate that Filson is no less concerned with materials and craftsmanship than ever before, so these updated shirts still speak the company's "might as well have the best" motto.  With the new fits that Filson offers, three distinct style lines now provide that much better comfort for different body types and muscular structure as well as appearance and versatility.  Filson now fits you, your sense of style, as well as your outdoor activities.
Filson's newest fit is called the Scout Fit. These shirts provide a separate, specifically styled option line with a slim, tailored look for a more wear-them-wherever flexibility.  It's a viable alternative that delivers a modern look without compromising work or outdoor play durability.
Filson most standard fit of Filson shirts has had a bit of a revamp, as it has been newly improved. The Guide Fit shirts balance a leaner shape that's not too slim or loose but still carry that Filson authenticity. This fit allows for comfort, mobility and an all around balanced fitting of the shirt. That is what the focus was for this design; to provide a well-fitting garment that would consent with the guidelines of today's market.
Lastly, the Archival Fit features an iconic style that is the oldest, and most nostalgic for some. Although the Archival has been around for quite time time, it too has evolved. There's no doubt this fit still reflects the origin of their functionality and the historical accuracy of the Filson company; this classic styling used for Filson shirts continues to gather loyal followers for its adherence to the Filson founder's ideals.
Clinton C. Filson basically said man must not confound a cheap, inferior grade men's shirt with a purposeful one and that he would be better off with no shirt than to sacrifice quality. Well, more than a century since C.C. Filson founded a company that makes superior men's shirts, with early designs intended for miners stampeding into Seattle in the late 1890's during the Great Klondike Gold Rush, Filson shirts are still prized as the "gold standard" outdoor apparel by explorers, engineers, hunters, and fishermen…and anyone else with a passion for fresh air, hard work, and a good find.
For more great products from Filson, check out their luggage and bag selection, along with various other products such as their famous tin cloth pants, vests, wallets, belts, flasks, socks, suspenders and more!