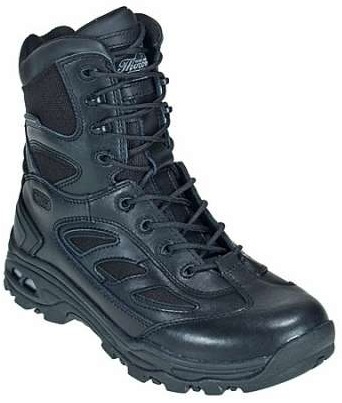 State-of-the-art means the latest and greatest yet, so leave it to Thorogood Footwear to add a Visible Gel System cushioning to its lightweight performance footwear.  On the job there's enough to take your attention – no need for heel throbbing to distract from work.  Thorogood's new work boots absorb shock with every step with the company's InterActive Cushioning System, improving comfort and reducing repetitive impact stress where it's needed most – in the heel!  And you are left stress free!
This new cushioning system, called the VGS 300 Technology, gives consistent shock absorption so you can work in comfort and you can expect your body won't be in shock after a day's work. The unique VGS that Thorogood designed is unlike other competitors and will not deflate like an air bag – important durability where it counts!.  While the standard of other companies' is 75 pounds of pressure resistance, Thorogood's VGS boots has been power tested and designed to withstand  300 foot pounds of pressure per square inch for thorough cushioning power you can feel with each step.
Covering the gel heel is a single-density polyurethane and removable memory foam cushioned footbed known in the industry as the most comfortable and breathable footbed in the uniform industry work shoe category.  Besides the cushy feeling of memory beds, there's the ExclusiveThorogood tm Slip-Resisting Traction rubber outsole with compression molded EVA for athletic performance, comfort, flexibility and lasting durability.  And inside the Nylex lining is an advanced breathable, yet heavy-duty system to wick away moisture and keep drying to do it again as needed.
Other features include full-grain polishable leather, for professional looks and other foot area comfort, non-metallic construction and design, and a molded rubber heel stabilizer for ankle support. Select styles with VGS 300 Technoloby have the Thoro- tm WATERPROOF system and are Blood-borne pathogen compliant.