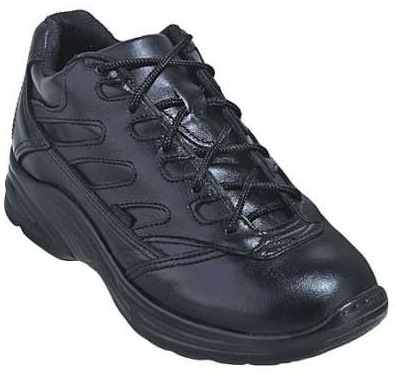 If shoe comfort is alluding you and you pound the pavement hard to get the job done, Thorogood's Street Athletics are shoes that will go the distance with you.  Maybe  you've got a suspect to pursue fleeing down the alley, but you can't keep up to catch because your shoes can't carry you; or, maybe your package couriering has you jumping in and out of the truck and up and down flights of stairs daily, but come evening, you can hardly stand on your sore feet. Or, maybe you've actually clocked the miles you walk in the hospital rolling patients in and out of the ER and know you need 12-hours on your feet comfort.  Whatever your job demands, Thorogood Street Athletics will go the distance that feels like one marathon after another.
Known as the most comfortable footbed among the athletic work shoe style, Thorogood's exclusive Triple Density Pillow Top removable "Motion Sensor" footbed with Memory Foam will make your feet feel like they are on Cloud 9 or beyond – even make you feel like running when you don't have to!  Street Athletics are Postal Certified – that's s working person's endorsement!
The first density layer is close to the pavement, cement, or gravel you travel and absorbs the pounding shock of every step.  The second density cradles the foot and massages it keeping you feeling relaxed and supported through your ankles, knees, and hips.  Lastly, the density layer closest to your foot remembers your unique shape and position, energizing your heels and toes as you keep moving forward.  All are topped with a wicking nylon liner that functions like a towel and then dries quickly to be available when you have a fast-paced work spurt again.  Underneath it all – and you – is the sporty, athletic designed polyurethane sole.
Shaped in low-top (834-6932) or high-top (834-6933) styles, Thorogood Street Athletics' soft, supple full-grain tumbled leather polishes up quickly to give the be impression possible. Made in the USA, both are available at WorkingPerson.com.