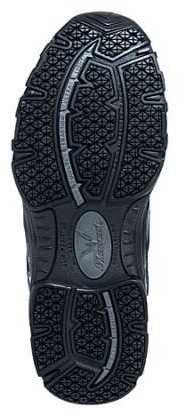 There are many important factors that go into staying safe on the job, that is why you should never overlook wearing the right safety footwear for the job you do. From turning quickly on slippery surfaces to fast-tracking over uneven grounds, you want each step at work to be safe.  You need quality footwear that is made for the work you do. Thorogood boots and shoes have been in the market for years, and have grown to be a extremely trusted work footwear brand. With the best interest of the wearer in mind Thorogood athletic styles shoes go above and beyond with their sole's gripping ability.
All of Thorogood's athletic styled safety shoes have the company's Exclusive Athletic Slip-Resisting (ASR) outsoles.  These non-slip work shoes are designed for hard-walking professionals who need a good grip on the surfaces they have to trek through.
The ASR's Uniform footwear is ideal for high-performance and comfort needs with enhanced styling.  All Thorogood Boots and Shoes ASR footwear styles feature Ultra Light comfort construction, with true athletic designs. This provides you with the support you crave while you operate at peak achievement. Inside the Thorogood shoes that feature the ASR outsoles are soft, thick, removable cushioned footbeds for extreme comfort from top to bottom.
All of Thorogood's ASR products are made in the USA and feature specially formulated rubber sole compound that was derived specifically for risky work environments.  The formulation, combined with the exclusive tread pattern, ensures maximum traction in the work place.
Truly soft, durable, and 100% non-metallic, the ASR's combination of true athletic and slip-resisting features lets you move freely, where others fear to tread. Various styles of Thorogood's ASR Shoes are available on WorkingPerson.com. Simply type Thorogood ASR in the search bar to find the style that fits the work you do best. You will find postal shoes to recon shoes, slip-ons and tie up shoes, high-tops and low cuts, and they're all slip-resistant! Remember, choose the footwear that suits you work environment best.