You start every day by lacing up a pair and don't kick 'em off until your work is done. Your hustle has you on your feet for hours on end and that's why choosing the right pair of work boots is clearly an investment in yourself. Finding boots that give you comfort can improve the quality of your time spent at work and your well-being off the clock too. Dependable work boots can help safeguard your feet from serious injury as well.
If you're ready to double down on some quality footwear, check out the Workingperson.com guide to our top 10 best-selling work boot brands:
10. Chippewa: Stylish and American made, your Chippewa Boots will work overtime, on the job and on the town. In 1901 Chippewa founders set out to create high-quality, authentic products made with the finest materials and they're continuing that tradition today. From engineer boots to classic motorcycle to insulated waterproof, our selection of Chippewa footwear features classic elements designed for your comfort and safety.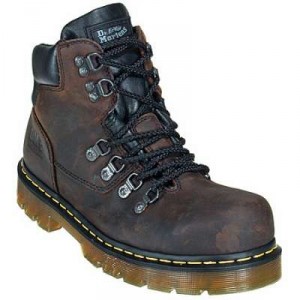 9. Dr. Martens: Maybe you rocked a pair of Dr. Martens a lifetime ago as a fashion statement, and you wouldn't be alone. This iconic brand has been beloved for decades for their ultra cool style and quality footwear. When it comes to work boots, Dr. Marten knows their stuff. Their work boot collection offers safety features for the toughest of the tough like metatarsal guards and ASTM-approved safety steel toes. They also created signature shock-absorbing PVC soles with non-marking oil- and slip-resistant tread to keep you steady as you go.
8. Caterpillar: Just hearing the name of this brand conjures up images of heavy machinery on a construction site. Caterpillar Boots are as tough as nails and built for your job. They've divided the level of support in their boots into three categories – light industrial, industrial and heavy industrial – so that you can find the pair that meets your specific needs. Their ERGO technology focuses on maximizing your productivity while reducing your foot fatigue and discomfort.
7. Puma Safety: The sleek styling of the Puma Safety work boots sets them apart from the rest. These shoes are more than just a pretty face — they pack a punch and offer elements like hydrophobic Nubuck leather for water resistance and idCELL technology to absorb shock and impact. The various colors and styles in our Puma selection make this brand a clear fan favorite.
6. Keen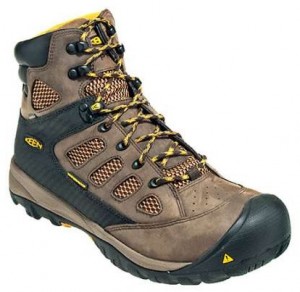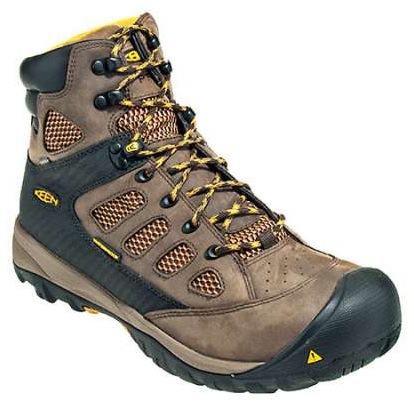 : Comfort? Check. Durability and versatility? Check and check. Using innovative methods, Keen has created tough, rugged footwear for indoor and outdoor use. Boots with Keen Grip technology include non-marking rubber outsoles with a no-slip, traction-friendly design. Pairs with Keen Welt construction have tough outsoles attached to leather uppers to provide enhanced durability. Keen Dry membranes will keep your paws from getting soggy on the job.
5. Reebok: "Work boots that don't feel like work boots," is Reebok's key to their work-boot designs. Super strong and surprisingly comfortable, Reebok work boots offer cushioning and support that will keep you spry all day long. This brand doesn't compromise on toughness either; Our Reebok selection includes military and tactical boots, electrical hazard protection and steel-toed options.

4. Carolina: From loggers to linesmen to jacks-of-all-trades, hard-working people are who Carolina Boots are designed for and it shows. Whether you need rugged strength, safety toes or slip resistance you are sure to find the boots that will equip you with protection and comfort in the workplace with this brand. The classic, attractive stylings and colors of Carolina boots give them an added appeal to make them one of our top sellers.
3. Thorogood: From a leading manufacturer and innovator in the footwear industry, comes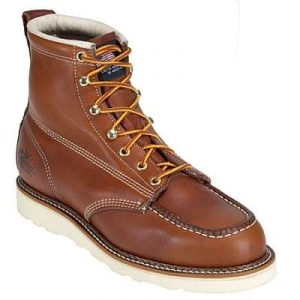 a brand that brings quality craftsmanship, comfort and safety. Thorogood Boots outfit the heroes of hard work like firemen, military workers, and police officers. Your feet deserve the fine construction and timeless design this brand offers. Choose from styles like our Commando Waterproof Safety Toes or our more classic American Made Work Boot.
2. Wolverine: When you stomp around in Wolverine Boots, you're sporting a brand that is a well known as a leader in product development technology and engineering with a focus on designs that improve performance. Cutting-edge developments from Wolverine include its Wolverine Durashock Compressor and Wolverine Multishox lines that give you some the best shock resistance and safety performance available. Choose from steel toe, composite toe or titanium toe technologies to find the pair of work boots that will last you for years to come.
1. Timberland PRO: Our number one best-selling brand of work boots may not come as a surprise – Timberland PRO's reputation for quality, durability, and style precedes itself. You can stand a little taller in Timberland PRO Work Boots knowing your footwear comes with waterproof strength, quality materials, and first-rate performance features. Choose from styles like our Dark Brown Earthkeepers Rugged Work Boots for a tall, lace-up classic or go for the Excave EH Steel Toe Wellington Boots for the slip on, cowboy-esque variety.
Whatever the job calls for, make sure you're prepared with footwear you can trust. Visit Workingperson.com to find a pair of work boots that will support your hustle.