In 1996, former University of Maryland football player Kevin Plank founded a company intended to create a better t-shirt for athletes. It's safe to say that at the time he was not aware that his intuitive shirt design would begin the athletic performance wear revolution. Whether it's local, college, or professional sports both here in the U.S. and abroad, it's hard to avoid that famous UA logo.
And that's a well-deserved place in the realm of athletics, as Under Armour's unique moisture-wicking ideas not only keep skin healthier and increase stamina, but they also keep you comfortable and allow your body to naturally control temperature. So inherently, hard-working people wanted to have the same technology outside of the gym. Under Armour has recently expanded their product line from athletic gear to just about anything you can wear: hats, beanies, underwear, socks, boots, gloves…you name, they probably produce it.
With high respect for customer feedback, Under Armour (UA) is constantly upgrading their styles to fit the needs of consumers. How do you know if the product you're interested in is the latest and greatest? The key is in the name. When UA alters a style, they'll usually keep the name the same, so loyal customers can find their favorite product again without trouble but will add "2.0" (or sometimes "3.0") to let you know the style has been innovated. Take these Men's Base 2.0 Black 1239726 001 Thermal Leggings for example. The first version was great, but as Under Armour's micro-technology has advanced, so has their ability to wick sweat while trapping body heat. So, essentially, the 2.0 is simply a product of better technology; but don't think your product is second rate if it doesn't have 2.0 in the name – after all, it's Under Armour.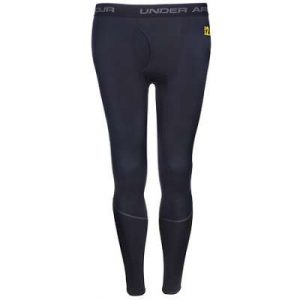 Depending on what you're shopping for, Under Armour has a variety of product lines for various weather conditions and activities. To narrow the search, consider the following:
ColdGear – Under Armour's line of moisture-wicking thermal gear. This includes beanies like this

Men's Black 1241967 001 Fleece Moisture Wicking Beanie

or the

Women's 1238261 001 Black UA ColdGear Infrared Mock Shirt

. The key to cold weather comfort is staying dry. That is why UA Storm and the UA Infrared technology works to pulls sweat away from your skin, yet trap the body heat it carries to keep you dry and warm in the cold.

HeatGear – moisture control is the key to cool as well. UA's HeatGear uses advanced evaporating fibers to accelerate dry time and accommodate the additional sweat and moisture in the air from hot weather conditions. Loose fitting or next-to-skin, there are plenty of HeatGear options, like the classic

Men's 1272330 983 Slate Blue UA Release Polo Shirt

and even underwear options like the

Men's 1277238 025 True Grey Heather Original 6-Inch Boxerjocks

.  

Accessories – Under Armour knows comfort, and they produce it in every product they make. If you're looking for sunglasses, sports shoes, boots, gloves, hats, ball caps, winter masks, hunting gear, or just about any other item for sports or work outdoors, UA has you covered and delivers nothing but quality.
WorkingPerson.com is proud to be a distributor of Under Armour products because we're dedicated to high-quality products that make your day a little better – if not a whole lot better. UA has long-lasting quality of the products make it a worthwhile investment. What started as a quest for a better tee shirt has turned into a revolution of moisture controlling comfort for all purposes. Under Armour makes a great addition to your work or play wardrobe and a great gift for the guy or girl who has everything. Check it out at WorkingPerson.com today!