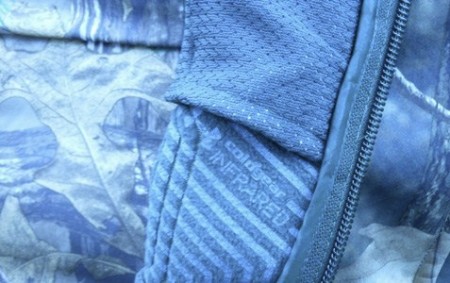 Under Armour's latest innovative technology creates a living, breathing body warmer in its ColdGear: Infrared Base Layers– keeping you warmer, longer.
Under Armour is known for its historic wicking microfiber garments since 1995.  With one revolutionary T-shirt that founder Kevin Plank created, he changed performance clothing (and perhaps the performance, too) one NFL team by one after the other.  The thought that drove him – and still inspires the company's research is: there has to be something better.  So this winter, there's yet another new innovation to UA's 2013 line, the ColdGear line: Infrared.
ColdGear products of the past were designed to keep you warm (and, of course, they wick, too, 'cause sweat is the enemy of outdoor warmth in winter's frigid zones).  But now Under Armour's latest in insulating base layers keep you warmer even longer so  you can function, play, and perform as necessary in the coldest-weather.  Never satisfied, Under Armour set out to invent garments that prevented heat loss.  It lead researchers to possibilities from strange places – Stealth Bombers and their ceramic coating, which makes them invisible to radar because the ceramic absorbs electromagnetic waves as well as the heat produced by them – and infrared imaging, which pinpoints heat loss in insulation systems.
Just because something can make you warm doesn't mean it can keep you warm. The challenge was how to do this.  The result?  Under Armour created a soft, undetectable ceramic coating – the pattern! – on the inner layer of their new innovative ColdGear: Infrared clothing that acts as a living, breathing body warmer. The coating on the base layer next to your skin soaks, absorbs, and retains your body's own heat — so GoldGear Infrared keeps you warmer longer…with no extra weight or bulk.  Base layering with ColdGear: Infrared under your other normal winter layers will assuredly keep you dry, warm, and able to endure – so you can perform, no matter how low the temperatures get.
Keep an eye out for Under Armour's new Infrared product to hit the market in 2013. For more Under Armour and/or winter wear products visit WorkingPerson.com.