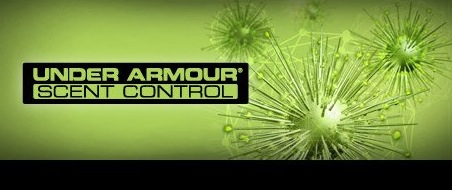 Say goodbye to carbon!  One of the most anticipated additions to the hunting world in 2013 is Under Armour's latest technological advance with their new proprietary Scent Control line. This type of scent control technology is exclusive to Uunder Armour and promises to be a huge boon to sportsmen.
Working with microporous synthetic zeolite minerals, the Under Armour's Scent Control system also includes anti-microbial silver which provides ten times the longevity of traditional carbon-based scent reduction methods, and maintains effectiveness of nearly 100%, even after 50 washes.  The secret to success with this hunting gear is the molecular behavior of zeolite itself, which is widely used in the purification of water due to its lattice-style shape.  The advantage of a synthetically produced zeolite lies in is its superior strength and stability, making it extremely suitable for acidic environments – such as those found on human skin, especially active humans.  Thankfully, odor-causing bacteria don't stand a chance against an excellent wicking material, especially not with the properties of zeolite.
Uunder Armour's Scent Control line is actually wonderfully dual-purpose.  Not only is it developed with a scientifically superior moisture-wicking material, but that same action reduces scent transfer and capture better than many currently available on the market.  The scent control material itself is notably 'quieter' as well – a very important aspect of any hunting trip.  This is true performance hunting gear for when you need it most – the ultimate in scent-management technology.
UA's Scent Control can be found not only in their base-, mid-, and outer-layer hunting apparel collections, but also in a convenient spray that can be applied to your other hunting gear, such as your pack, bow, stand, and your hunting boots.  Working Person's Store will carry Under Armour's scent control products once they become available in 2013; until then check out the following Rocky Boots, (4778) and (4779), which also feature scent control technology.