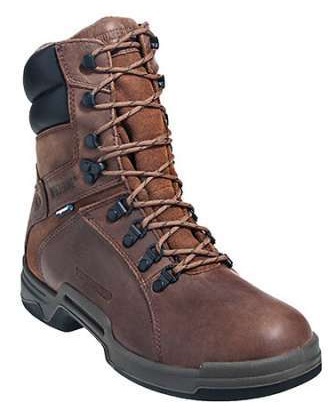 There are enough quotes about "where you tread" and if anyone could think through what it takes to make a tread that targets where you are going – it's Wolverine.  The company's new Griffin DuraShocks SR Boots have an outsole pattern and time-tested interior comfort technology that is designed with every possible step taken into consideration. – because the steps you take to do your job matter.
The result of these work boots is the internal comfort as well as a highly rated slip resistant, durable, and flexible leather boot for working people.  The secrets are in the polyurethane outer sole, with its rubber compression pads.  The soles bright blue sole has at its heart, a series of various directional and patterned treads, each placed for optimum performance.  Pebble styling designs under toes and arches grasp and hold your step with assurance, while the lined design under the ball and portion of the heel allows easy grip that allows rolling forward momentum.
Within, the Wolverine Griffin DuraShocks Slip-Resistant Boots absorbs shock in the heals because of unique compression pads, returning energy to each additional step.  The other feature inside for standing, walking, and moving comfort is a 3D OrthoLite footbed that provides complete underfoot comfort.
Classic, smooth-toed timeless style, these are fully waterproofed work boots, with full-grain, tan leather uppers.  The laces tie through heavy-duty D-ring eyelets, with open eye hooks at the ankle for balanced tension where you want it most.
The construction of the Griffin DuraShocks SR boots is direct attach for long-lasting usage.  Within is a wave mesh lining for wicking breathability. The heights come 6", 8", and Wellington styles, in M and EW widths.  There's also an optional steel toe style. And with Wolverine, expect no less than its 30-day comfort guarantee for your Griffin DuraShocks SR Boots.