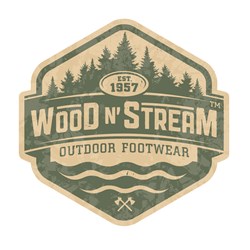 For all the working people who love to get themselves involved in various outdoor activities and who are obliged to work in outdoors on daily basis, it is a great task to select some comfortable as well as duarble, work boots. Wood N' Stream is offering one of the finest products for all such working people or adventure loving people who like to play outside, as well. Wood N' Stream Boots is a name of quality, and the brand has been outfitting adventures since 1957. This rich heritage of Wood N' Stream was for the first time introduced by a shoe company named Weinbrenner, in the form of handcrafted footwear. Over 60 years of quality and comfortable products, its offering a variety of footwear styles till present. After an extended break, Wood N' Stream has re-released its footwear to offer some of the best outdoors designs around. This outdoor footwear series is one of the favorite of many sportsmen because once you lace them up you feel them as a terrain vehicle under your feet.
Since outdoor places are more rough and tough than the indoor ones, whether its any simple long standing work or an adventurous pursuit, you need tough and comfortable hiking shoes for it. Suppose you go on an adventurous pursuit and you have to walk a lot and run through harsh environments, you need great protection for your feet which can be ensured only with some safety work boots, much like what you would get from Wood N' Stream boots.
You might be thinking now that what are those particular features that make the Wood N' Stream line so suitable for outdoor activities, so let me introduce you with the various amazing features of this great footwear series. A lot of innovative and one of kind technologies have been introduced into these outdoor and hiking boots which had never been seen before. Its various related series are also rich in innovative technologies including VGS, "Visible Gel System" and Gen-flex2 and 3 Series. Each pair of Wood N' Stream boots is full of comfort, quality and durable construction thus many sportsmen and outdoor workers praise their products.
If you don't go outdoors with family and friends and miss out many adventurous opportunities just because you are afraid of feet pain and bristles, then say bye to all of your fears because Wood N' Stream is all what you need. Even if you are not wearing these for your next fishing trip or trek through the woods, these boots are great for all situations. With their exceptional design and style, these boots can easily be taken from the outdoors to the office or some may even be suitable for an evening out to dinner, just make sure they are wiped clean!
Wood N' Stream Footwear has many collections, let's find out what are the interesting features of those footwear collections.
American Heritage is one of the popular collections of Wood N' Stream which is very appreciated by many outdoor enthusiasts. The various selections included in this collection are very high in quality with mostly Cement or Leather Goodyear Welt Construction with comfortable outsoles and special features of water and abrasion resistant toe guard. Above all, the best feature these selections own is their origin, yes, these are Made in USA shoes and are equally preferable for both males and females.
Wood N' Stream footwear series have another very vibrant and tough collection of boots, Interceptor series. Now go on any crazy adventure and wild outdoor location with all your craziest dreams on your mind and Interceptor series boots on your feet. This extremely comfortable and durable collection has also many selections for you, so that you could pick the one that you need or desire. All of its selections have cement, highly breathable and waterproof sole construction with reinforced heel and toe guards. Likewise, Instinct VGS Series own all of the above mentioned features and are highly recommended for hiking lovers because its outsole is specially designed with hiking VGS unit and serves the best experience ever!
ELX/LTT Series is also one of the proud collections of Wood N' Stream, which has very amazing kind of comfort system, designed especially for people who prioritize comfort over anything. The many selections of this series have Goodyear welt construction and special features of VGS 300 shock-absorbing technology combined with GenFlex-3 molded comfort footbeds and flexible midsole cushioning and support.
The Flyway series and Cold Weather series are also among the above-mentioned splendid collections of Wood N' Stream series. The Flyway series all feature cellular wedge outsoles. The blown rubber, cellular compound provides superior cushioning, slip-resistance and durability. The Cold Weather series is for exactly that, cold weather. Helping to keep your feet warm in cold climates, the insulated boots are the perfect choice for outdoor activities.
If you have any plans to pursue an adventure or you just want to feel highly comfortable at your outdoor workplace then visit WorkingPerson.com and get the high quality products of Wood N' Stream series, after all we value your dreams!