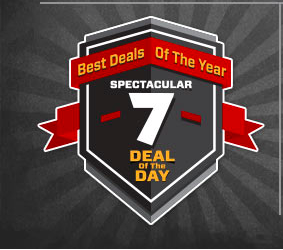 For some reason every year, on the day after Thanksgiving, we choose to battle mobs of fellow shoppers at too-early-to-function hours of the day as an attempt to obtain the best deals possible. Your Black Friday shopping doesn't have to be a headache anymore. Right here at Working Person's Store, we're having a Spectacular 7 Sale! Instead of one nightmarish day of fighting the crowds before the crack of dawn (and before your coffee kicks in), this special event will give you seven peaceful days worth of incredible sales.
Forget the in-store Black Friday madness. At WPS, you'll be able to discover new deals everyday, starting on November 24 and going through December 1, 2014. For the Spectacular 7 Sale, there will be three new sales each day, featuring many of the well-known brands we carry. We'll also offer four new flash sales on each of the seven days. Think all that sounds great? Since we want to spread a lot of holiday cheer, there will also be one incredible deal of the day. That's right – three new sales, four new flash sales, and one incredible deal of the day – every day, for seven days. You'll feel like a kid again, except instead of one day of chaos, you'll have seven days worth of awesome surprises.
In addition to all this holiday goodness at Working Person's Store (yes, there's more!), some of our sales even include free gifts with your purchases. We're kind of like the Grinch after his heart grew threw sizes bigger that day. Be sure to check out our website daily for our remarkable offers. Better yet, you can also get bonus rewards points on all your purchases. If you haven't signed up for our excellent rewards program yet, do so soon to make sure you get all the benefits of the Spectacular 7!
Start your Christmas shopping early this year. Beginning November 24, you can tackle your Christmas gift list better than security guards arresting a couple of moms fighting over a box of Legos at the local toy shop. The Spectacular 7 Sale is more than just a day of shopping…it's SEVEN days of great deals. Just click any of the links below!
Carhartt

Wolverine

Wrangler

Red Kap

Under Armour

Timberland PRO

Wigwam

CAT

Dr. Martens