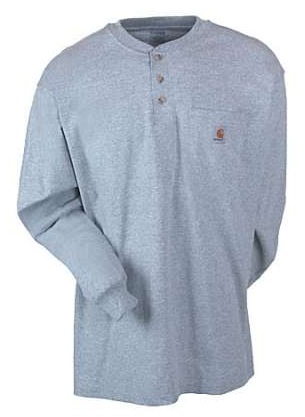 If you're looking for a new wardrobe staple, a piece with a variety of uses, look no further than the Carhartt Lightweight Henley Shirt (K128).  Although famous for workwear, Carhartt shows us how their garments can serve many purposes with the Lightweight Henley.  Recently named a "Fall Style Upgrade" by Men's Journal, it can easily be worn for a professional look on the job as well as for a casual look at your next fall barbecue or tailgate.
Carhartt Clothing, specifically this Carhartt Henley, creates a timeless and classic look appropriate for a multitude of fall (and winter) occasions.  Don't be caught in that dingy old tee at work, clean up your look and try out the Carhartt Lightweight Henley Shirt.  On those colder days which will soon be upon us, it can be used to layer under a vest or jacket for a comfortable yet stylish look.  You'll be impressed by the warmth of this henley, as it is still lightweight and breathable.  Just about as versatile as it gets, this Carhartt K128 henley will be a perfect addition to your fall wardrobe or a great gift for men of all ages.
Get one of your own today at Working Person's Store and try it out.  We're sure you'll be back for one in every color!