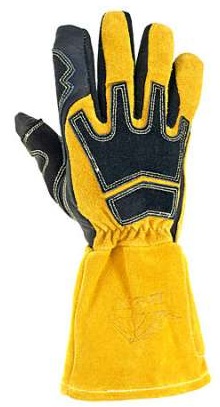 It used to be when you bought a pair of stick welding gloves, that you had to make a choice. You could go with the big bulky and barely moveable variety, which you knew would keep you safe but would leave your fingers feeling like they'd been fully supporting the weight of an anvil all day. Or you could go with a pair you could actually stand to wear, which for once didn't feel like you wear actually wearing sheet metal on your hands, but sacrificed protection. What's the point in creating a comfortable welding glove if it falls apart? And what's the point in creating a durable welding glove if it was painful and cumbersome to wear? Thank goodness, those days are over.
Today, there's a much simpler choice, and a much better one. Black Stallion Comfort MAX stick welding gloves by Revco Industries is a new variety that has managed to incorporate leading-edge comfort with cutting-edge protection. It's the best of both worlds. This combination of advanced features is several steps ahead of traditional styles. In short, these are the most comfortable gloves that Revco has ever made for stick welding. We think you're gonna like them.
There was two goals when making these Comfort MAX welding gloves: High dexterity, and ultra-durability. In other words, Revco wanted you to be able to use your hands in their natural movements, to not have your range of motion limited or encumbered in any way. And the designers also wanted these to be long-lasting, tough welding gloves that could get the job done time and time again without wearing out. Accomplishing this dual mission was not easy, but it was achieved. If it was easy, everyone would be making them, instead of them being the advanced industry leader that they are today.
These Black Stallion Comfort MAX stick welding gloves (styles 830,835 and 840) by Revco feature a durable split cowhide back, and a premium split deerskin palm. The cushioned grip is reinforced with resilient grain pigskin. The back is lined with naturally insulating wool that protects all the way from your fingertip all the way up to the back of the cuff.  Unlike other stick gloves, this provides added protection for your wrist and forearm. Another way MAX Comfort stick welding gloves go above and beyond traditional gloves.
Additionally, these gloves feature Revco's exclusive RestPatch side comfort feature and DragPatch side reinforcement. These features were designed to provide maximum comfort in working movements. The imbedded BackPatch insulation on the back of the hand gives extra protection where you really need it most.
If you are looking for more Black Stallion stick welding gloves outside of the comfort line, check out the BS99 and BS88 which are part of the Black Stallion BSX Black and Tan line.
And if all that's not enough to convince you, there's this: Revco Industries is based in Santa Fe Springs, California. So not only are you getting a superior pair of stick welding gloves, but you're getting a superior pair of stick welding gloves that are American-made. They come in three colors: blue, red and orage, and they're available at Workingperson.com. Get yourself a pair of these wonderful stick welding gloves today!