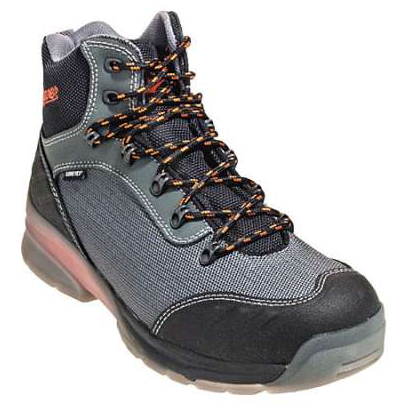 Walk into a store and head to the work boot section, and the experience is all the same. A wall of black and brown that all look and sound the same. Magnum-this, Steel-that… it can be overwhelming. So can the price.
Danner decided to do something about that. So it came up with a new work boot for 2012 that is truly different and innovative. The Danner Tektite work boots are a versatile indoor/outdoor work boot with the goal of standing out from the same old, same old.
"The work boot wall at any retailer is a sea of black and brown; there is a need for a new, innovative product like the Tektite that stands out from the competition and entices consumers," says Hans Albing, product line manager for Danner Footwear.
The Danner Tektite work boots come with a lot of hardworking features. Innovative materials in the outsole and upper make for a work boot that is light, fast, and long-wearing. Let's take a look at these features:
First of all, the Danner Tektite work boots feature a SuperFabric upper. This innovative feature is made up of hundreds of small resin beads. As a result, it is more abrasion-resistant and breathable than leather.
The EXO platform, which Danner originally used in its line of outdoor hiking boots, has a heel guardrail and a forefoot plate. This makes for a truly secure foot. It's like the boot is molded to your foot, so it moves with you when you move, instead of against you. It also results in more sure footing.
Speaking of surer footing, these Danner Tektite work boots also feature a thermoplastic polyurethane outsole, which has an oil- and slip-resistant tread pattern. The outsole also includes Gore-Tex Extended Comfort, which is more breathable than standard outsoles, so your feet remain fresh. It's like a breath of fresh air… for your feet.
So, avoid the wall of monotony, and visit Workingperson.com to get your innovative Danner Tektite work boots today. If you love Danner you should check out LaCrosse footwear, as well.