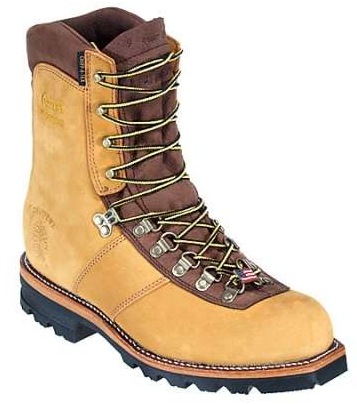 Thinsulate is a microfiber material that insulates even when damp and dries quickly. It's used in gloves, jackets, footwear and other clothes in different thicknesses.
Measured in grams (per square meter), you have quite a choice at of weights at our Working Persons's Store. We prefer you to be a little on the cautious side when it comes to manufacturer's recommendations, and, of course, "your mileage may vary." We also feel that insulated footwear should be one of your warmer purchases, as it's easier to layer things like jackets and sweatshirts comfortably. So we carry a heck of a lot of Insulated Boots with this material.
200 grams of Thinsulate should do you find in a boot if you're going to be active on a cool Fall day. (We have plenty of these, like the Wolverine 3719, for example.)
If you're going to be tramping through snow, perhaps hiking or stalking big game, you'll probably be better off with something like a 600-gram weight (a Danner 6000 might be a choice here).
When you're thinking extreme, perhaps below-zero temperature, cold, or less activity (like waiting in a tree blind or standing watch), consider around 1000 grams of Thinsulate as a good bet (try Rocky 9275).