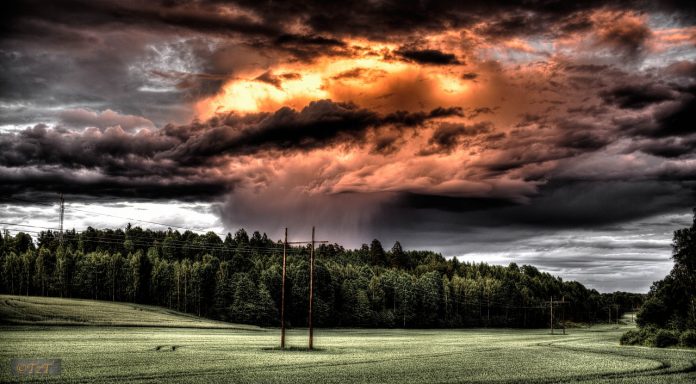 Your Spring weather forecast likely holds rain, rain and more rain. This wet weather means growth and green—which is great—but it also can bring on-the-job hazards for those who have to face the elements on the clock. While some folks can grab an umbrella and be on their way, others need to arm themselves with workwear that can protect them from rain as well as flames.
If you work in an environment that involves flammable or explosive materials—like an oil refinery or a chemical plant—your rainwear also needs to be flame resistant. The American Society for Testing and Materials (ASTM) International sets requirements for flame-resistant rainwear. ASTM puts this apparel into three categories for different levels of protection (DQ413, F1891 and F2733). If your worksite could potentially expose you to wet weather in addition to industrial hydrocarbon fires or other petrochemical fire hazards, you're required to use rainwear that meets requirements of the ASTM standard F2733.
NASCO Men's Hi Vis Waterproof Fire Resistant Hooded Jacket 5503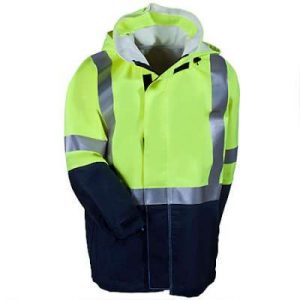 At Working Person's Store we carry a variety of flame-resistant rainwear including several quality pieces that meet ASTM F2733 standards. Our NASCO Men's Hi Vis Waterproof Fire Resistant Hooded Jacket 5503 JNFY is one of our best-selling items in this category and also one of our most high-end, deluxe options. In addition to meeting ASTM F2733 requirements, this jacket is also electric arc-rated ASTM F1891, NFPA (National Fire Protection Agency) 70E rated for safety, and ANSI 107 Class 3 compliant. That makes this gear perfect for electricians, utility workers or those who work in oil and gas industries.
To keep you safe in low lighting, this jacket features two-inch 3M Scotchlite reflective striping around the chest, shoulders and biceps. For added protection, the top half of the jacket is made from of fluorescent yellow fabric that helps you stay visible to motorists or coworkers.
You'll stay secure instead of soggy in the lightweight, windproof material that features a hood, non-conductive zipper with a Velcro storm fly front and storage pockets. Stain and soil resistant, this jacket makes the perfect sidekick for when things get slick.
National Safety Apparel Men's R30RL 06 Hi Vis FR Hooded Rain Jacket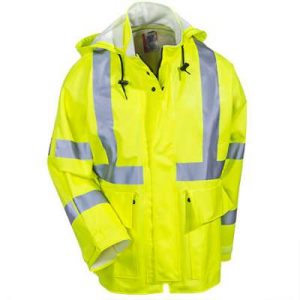 Our National Safety Apparel Men's R30RL 06 Hi Vis FR Hooded Rain Jacket is our mid range budget option and provides ideal protection for workers who need to be seen on the job–like construction workers or first responders. It's also a great option for those who plan to work up a sweat while outdoors thanks to its cooling features.
Providing you with the utmost protection, this jacket is fire resistant and has an arc rating of 19 cal/cm2 and meets the HRC 2 rating. It also meets ASTM F1891 and ASTM F2733 safety standards for arc and flash fire ratings.
Giving you wet weather protection as well as comfort, this rain jacket is made with a combination of polyurethane and cotton knit material. To keep you cool, the back features a ventilating system and the flame-resistant mesh keeps the air flowing.
You can stay nimble on the job site too with sleeves designed in a batwing pattern giving your arms freedom of movement. The two front pockets are reinforced for strength and feature flame-resistant hook and loop closures for added security. The wrist cuffs also give you flame-resistant hook and loop tabs to adjust to your preference.
Tingley Men's J44122 Yellow Eclipse Flame Resistant Hooded Jacket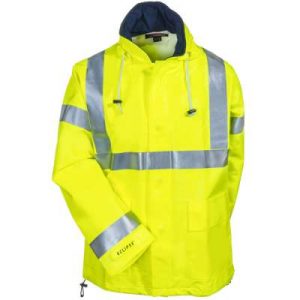 Our Tingley J44122 Men's Yellow Eclipse Hooded Flame-Resistant Jacket is one of our economical, budget-friendly options and uses the Tingley Quad Hazard Protection system to protect you from rain, flames and low visibility. It's ideal for workers in pipeline, construction, electrical, petrochemical and many other fields.
This jacket gives you 100% liquid-proof protection with its PVC-coated Nomex design. The Therm-O-Rad sealed seams and the zipper/storm fly front with snap closure work as shields to block the rain and elements.
To keep you safe when things heat up, this fire-resistant gear complies with all the major standards. It meets ANSI/ISEA 107 Class 3, ASTM F1891 Arc Thermal Performance, ASTM F2733 Flash Fire Performance, NFPA 70E and Hazardous Risk Category 2 requirements.
When you need to be seen like your life depends on it, this jacket can help you shine. It features 2-inch silver reflective tape that reflects light for 360 degree nighttime visibility. Its fluorescent material will keep you visible in the daytime as well.
Proving its worth on the job site, this jacket has a full-vented cape back to improve air circulation. The hook and loop take-up straps on the wrist cuffs and an adjustable elastic drawcord let you customize your fit. It's also resistant to many acids, oils, alcohols, salts, and alkalines.
For more flame-resistant rainwear that will protect you from on-the-job hazards, visit Working Person's Store and workingperson.com.