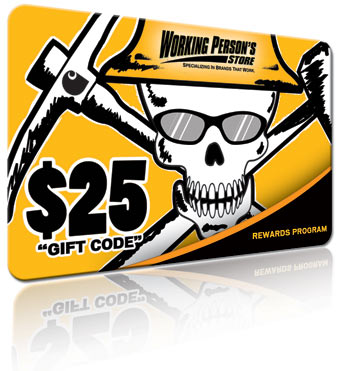 We're pleased to offer a rewards program to give back to our loyal customers. The Working Person's Store Rewards Program is a fun, interactive way to earn points that you can use to buy your favorite quality gear on WorkingPerson.com. Rack up points for shopping, writing reviews, liking products on Facebook and more.
EARN
To get started, enroll in the rewards program and instantly earn 150 points just for signing up. Once you're logged on, you can earn additional points for every purchase you make. There are many other ways to earn points again and again. Writing helpful reviews on products you know and love is an easy way to earn. Liking products on Facebook or recruiting your friends will also pay off every time.
One-time earning opportunities are also available and give users simple ways to earn. Actions like signing up for the Working Person's Store newsletter and requesting a Working Person's Store catalog will help you on your way to redeeming your points for real rewards. Visit the website for detailed information on ways you can earn points.
REDEEM
Now for the fun part—redemption. You can redeem your points for gift codes to use for any gear you want on WorkingPerson.com. We have over 60,000 work boots, workwear clothing, rugged outerwear and accessory items. Choose apparel from popular brands include Carhartt, Dickies, Wolverine, Timberland, and many more.
PLAY
To make things just a bit more interesting, as a reward member you get to participate in contests and give-aways throughout the year. You'll also have a chance to shop our multiplier sales where you can get double, triple or even quadruple the reward points when you purchase any Working Person's Store gear.
Join the fun and start earning rewards today.