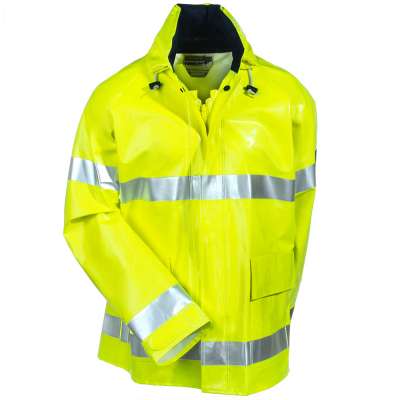 When working in an industrial workplace, it is quite common for safety risks and hazards to be diverse.  Oftentimes there isn't just one hazard to be cautious of, but many.  For example, ASTM F2733-09 the Standard Specification for Flame Resistant Rainwear for Protection Against Flame Hazards is a standard that is important to look for when purchasing workwear when your work puts you in a situation where you can be exposed to wet weather conditions and hydrocarbon and/or petrochemical industrial fires.
The existence of a safety standard such as this one is proof that flames can be a serious threat even if the rain is pouring down.  For this reason, it is important to always be outfitted in the appropriate workwear if you work in an industry where both rain and flame are a concern.  While different workplaces and employers will require different personal protective equipment, the Working Person's Store is a great source for flame resistant rain gear.
Working Person's Store carries a wide selection of jackets, overalls, pants and coveralls that are all flame-resistant and built for wet weather.  One trusted brand of FR rain gear is Tingley.  What began as a rubber company in the early 1900s is now a major supplier of protective clothing and footwear.  Tingley offers a flame-resistant PVC hooded jacket which is thick enough to keep the water out, but also self-extinguishing in the event of flame exposure.  Tingley also offers pants, overalls and coveralls that are designed to keep both water and flame out.
If you also need the added protection of hi-vis gear, many of the FR rain gear styles are available in hi-vis, as well.  One maker of flame-resistant, hi-vis rain gear is Viking.  Viking's Hi Vis Flame Resistant Waterproof Bib Overalls have a polyester interior which is coated with impermeable PVC.  The PVC coating will block not only water, but oils, fats, and chemicals as well.  You can feel secure in the fact that you will remain conspicuous in these bright orange bib overalls which include 2" FR-treated reflective tape.
When purchasing workwear, it is important to keep in mind all of the potential hazards you may face and to be aware that there is often more than one or two present at any given time.  Be sure to check out the Working Person's Store for all of your flame-resistant rain gear needs and more.