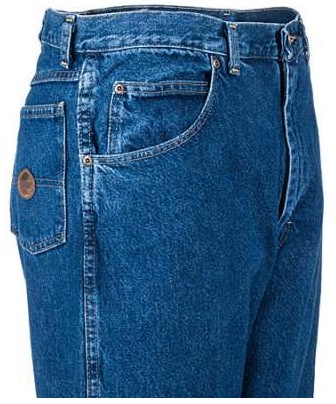 If you want your company to be the best, it needs to look the best, and be outfitted with the best. And to be frank about it, the best is Red Kap denim. It's quality that works in the marketplace. When it comes to outfitting your team members with quality uniforms (so that they look their best), Red Kap is the best option for a number of reasons.
Red Kap is part of the world's largest denim apparel company — Wrangler. Red Kap's fabric and manufacturing process are shared with Wrangler, which is the largest denim brand in the entire world. As a result, Red Kap uniforms are worn by more than 16 million workers across the globe, in so many different types of occupation — from mechanics to machinists to many more.
Red Kap denim is a U.S. fabric. It offers quick response, flexibility and product consistency — the qualities with which Red Kap denim and Wrangler have come to be known and recognized by. Red Kap is tested right and done right.
Red Kap also has not only the lowest price but the most extensive jean offering in each fit category, which is a rare combination. Low-priced, high-quality Red Kap denim is available in a large variety of different styles, colors, and fits. And the differences are easy to understand because they are the most closely tied to retail jeans.
Within this great line, Red Kap has two different types — core and specialty, and several styles within those two types. And it's your choice whether or not they have rivets, depending on the type of work you do in your industry. The core line of Red Kap denim jeans features prewash, stonewash, and dark stonewash styles. The stonewash jeans are available in Relaxed Fit and Dungaree varieties, while the dark stonewash comes in Classic Fit and Loose Fit. There are four varieties of prewashed Red Kap denim jeans: Classic Fit, Relaxed Fit  (with and without rivets) and Dungaree. There are two special types of Red Kap denim jeans: Rigid Denim in a Classic Fit, and Prewash Black in a Relaxed Fit. There is an expansive size scale (28-50), available in several hem lengths (stocked or unfinished) and also women's companion pieces.
And the best part is, if Red Kap doesn't stock it, they can and will make it. Thanks to its comprehensive set of patterns, Red Kap can create non-stock sizes as well as Made to Measure sizes, so that each employee can stay uniform. Yes, your part is to make sure you are sizing your employees correctly, but once that is done pass the sizes on to Red Kap and they will fulfill your requests. Plus, Red Kap is the only uniform supplier that offers customization on jeans, such as if you need reflective striping, for example. If you need it, Red Kap can do it. And will do it right.
The only thing better than Red Kap denim is Red Kap service. This is what Red Kap has made its reputation on since 1923. Besides the fact that they're making high-quality denim products, Red Kap's expert merchandising team is filled with experienced and helpful individuals who have the knowledge and resources to help you capitalize on a number of opportunities. Incorporating denim into your company's uniform program is a great way to take advantage of these opportunities by developing the look and feel you want and need to land the big accounts and get the job done. And done right.
Visit Workingperson.com today to get your Red Kap denim needs taken care of by our own helpful team! If you