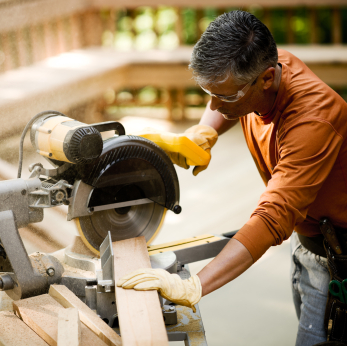 If you remember the boring, foggy and oversized safety glasses from your 10th grade chemistry class, you're not alone. However, those glasses are history. With time, the Occupational Safety and Health Adrministration (OSHA) has cracked down on employers to provide their workers with the appropriate personal protective equipment (PPE). This has helped to spark major advancements in protective safety glasses. New safety eyewear is hip, extremely comfortable and is made with sophisticated technologies. New safety glasses combine technology and comfort to meet the increasingly diverse hazards in the workplace and keep workers safe.
Often overlooked, comfort can make a huge difference while at work. Not only will a comfortable worker be more productive, but they will be safer also. When safety eyewear is uncomfortable and doesn't fit, workers tend to ignore the hazards and take off their eyewear. Many companies are recognizing this problem and making adjustments. Some new comfort features on safety glasses include, adjustable nose bridges to keep the glasses and lens centered on the wearer, cushioned and vented frames that allow for proper air ventilation and the ability to adjust temple tension to allow for fitting of different head sizes. Having adjustable, comfortable and custom eyewear can drastically improve a worker's compliance to PPE safety rules as well as eye fatigue.
You have probably already seen and used one of the new technologies being incorporated into safety glasses – transition lenses. While these popular lenses have been used widely for prescription glasses, they are just now being incorporated into safety eyewear. Transition lenses help workers who work in different levels of light adapt easier. The transition lenses, or photochromic lenses, lighten and darken in seconds as workers move from different environments. Another light management technology being used in safety eyewear is polarized lens technology. Edge safety glasses are one of our top selling brands who offer a wide range of polarized lenses. Usually common in commercial sunglasses, polarized lens technology blocks the glare caused from reflected sunlight. By reducing glare and helping the wearer see fine detail and colors, polarized lenses are especially useful for people who work outdoors.
When talking about eyewear, being able to see through the safety glasses is the most important feature for a worker. To improve visibility, new anti-scratch and anti-fog coatings are applied. A popular brand with both anti-fog and scratch lenses are Pyramex safety glasses. The new anti-scratch eyewear coating provide five times better protection that previous coatings. Anti-scratch coatings not only benefit the wearer through better visibility, but also the employers. The coating ensures the glasses will last longer, delivering a nice cost-savings. Similar to the anti-scratch coatings, the anti-fog coatings also improve visibility and safety for the wearer. The coating is permanently bonded to the lens so the glasses perform well under extremely hot and humid conditions. Increased visibility for workers means a safer and protected workforce.
Some working environments call for unique eyewear that performs like goggles in high-particulate environments but regular glasses in normal environments. Luckily, there is a new sealed hybrid safety eyewear that does just that. This eyewear looks like regular glasses but is fitted with a permanent or removable sub-frame made of contour form that perfectly fits around a wearers orbital socket, blocking particles or dust from their eyes. The glasses can also be fitted with prescription lenses, providing even more protection for the wearer.
As required by OSHA, following PPE regulations for safety glasses used to mean an uncomfortable day at work. Times have changed and technology has advanced, so you no longer do you have to dread putting on safety glasses. These new features enhance your safety, improve your workplace and can mean the difference between a regular day at work and a dangerous, costly injury.