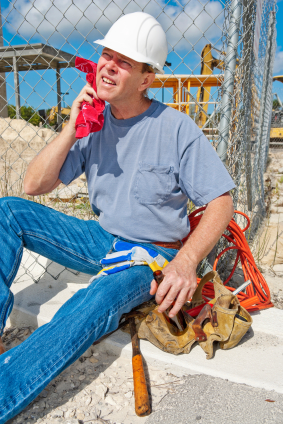 It's finally heating up outside which means beach days, BBQs, and cold brews. For many workers, like linemen, road crews, and more, the high temps can also mean long, hot days on the clock.
Too much exposure to heat can cause heat rash and other unpleasant side effects. The top three types of heat-related injuries include: heat cramps, heat exhaustion, and heat stroke. Light muscle cramps, dizziness, extreme thirst, and fainting can be signs of heat exhaustion. When your body temperature is over 104 degrees Fahrenheit, that's a sign of heat stroke. Very high body temperatures can cause brain damage, so make sure you know about the risks of working in the heat beforehand. Other symptoms can include rapid breathing, seizures, and lightheadedness. If you or someone you're working with experiences any of these heat-related symptoms, it's important to take immediate action.
The good news is that you can prevent these heat-related illnesses. While heat exposure can't always be eliminated, it can be minimized and proper steps can be taken to prevent or reduce the negative effects. The Occupational Safety and Health Administration (OSHA) suggests that those who work outdoors in the heat take the following steps:
Drink small amounts of water frequently

Wear light-colored, loose-fitting, breathable clothing

Take frequent short breaks in the cool shade

Eat smaller meals before work activity

Avoid caffeine, alcohol, and large amounts of sugar

Work in the shade

Contact your healthcare provider to find out if your medications and heat don't mix

Know that equipment, such as respirators or work suits, can increase heat stress
Arming yourself with cooling products and accessories is another way to keep your body from getting overheated. Improve your comfort, job performance, and even health by investing in gear from Working Person's Store to keep you cool this summer.  
MiraCool Products to Beat the Heat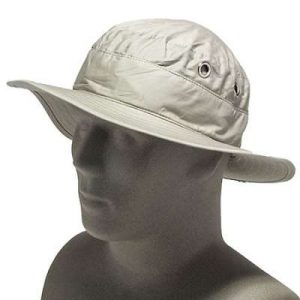 From cooling bandanas to vests to headbands, MiraCool technology is keeping millions of people cool. You can find these heat-fighting secret weapons on job sites across the globe, as well as at sporting events near and far. 
MiraCool products specialize in personal heat stress prevention. 
Containing water-absorbing crystals, MiraCool fabric in products can stay cool for up to 48 hours (sometimes longer, depending on the design). What may look like a normal accessory is actual an important tool to beat the summer heat. Simply soak the products in water as directed to enjoy cooling comfort. With this technology, you won't have to drench your head with cups of water all day or suffer from the scorching sun. When you choose designs like the basic ranger with a wide brim, you'll also have shade for your eyes. It blocks the sun from your face and neck as well.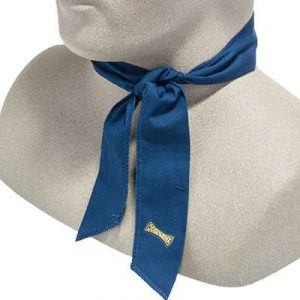 Chilling out has never felt so good. With lightweight accessories (like the neck bandana shown to the left) that will cool off your head and body using its MiraCool crystals, you can have long-lasting cooling. Keeping your body temperature normalized is critical when you work outdoors or in very hot working conditions. Start your day off right by putting a MiraCool product on in the morning and enjoy the cooling properties all day long.
While they're a critical part of your safety on the clock, hard hats don't always help you out while you're trying to cool off in the summer heat. Having a warm weather sidekick, like the MiraCool pad, keeps you cool even when you have to wear a hard hat. Since no job is quite like the other, this cooling technology is a versatile option for fighting the heat.
Conjure up your summer superpowers and order your MiraCool items today.
Cooling Vests for Core Comfort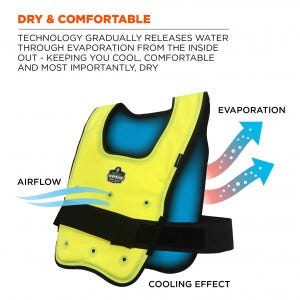 Beat the heat with cooling vests! With a long-lasting cooling process that can last up to three days, (depending on humidity and heat levels in your work environment), cooling work vests from brands like Ergodyne are a great option to maintain your core body temperature. Lightweight designs are made with industrial grade nylon that will help you stay dry and comfortable, too. Simply fill up a cooling vest to activate it, and you'll enjoy the gradually water release and evaporation cooling process throughout the day!
Sqwincher Sports Concentrate Drinks for Proper Hydration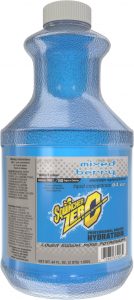 When it's hot, it's important to hydrate. With Sqwincher Sports Drinks that come in 64-ounce concentrated bottles, individual flavored packets to make the electrolyte fluid on an as-needed basis, and ready-to-drink pouches, you'll have plenty of liquid to replace any fluids lost during perspiration. Physical work, exercise, and even illness can cause you to lose fluids and electrolytes, so be sure to have Sqwincher products on hand. The 64-ounce concentrated option has a 5 gallon yield, and these mix well without stirring.
The Sqwincher non-carbonated, liquid sports beverage product have several flavor options, including Mixed Berry (shown on the left), Lemonade, Tea, Grape, Lemon Lime, Orange, Cherry, Tropical Cooler, Cool Citrus, and Fruit Punch. You can find the flavor you love to enjoying staying hydrated.
Staying hydrated helps to regulate your body temperature, too. Keeping your electrolytes in check is also important for proper organ function and nutrient transport to your cells. Maintaining good hydration can benefit your sleep quality, cognition, and even your mood!
Just because it's sweltering outside, that doesn't mean you have to be. Take the right steps to guard yourself against negative impacts from the sun. Stay cool!
---