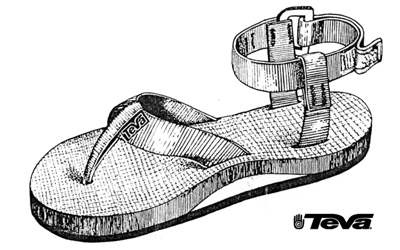 When it was first created in 1984, the Teva sandal was thought to be the first amphibious, athletic sandal. The sandals were invented by Grand Canyon river guide Mark Thatcher for those seeking an active, outdoor life with comfort. He wanted people to enjoy the lifestyle he so enjoyed without restraint. Calling the first Teva sandals humble is quite the understatement. The well-known, sturdy sandals of today were created with just an old Velcro watch strap attached to a flip flop. (Talk about improvising!) Thatcher originally signed a deal with California Pacific and 200 pairs were sold in the first year. In 1985, Deckers Outdoor Corporation entered into a licensing agreement to produce and distribute Teva sandals.
The sandals were designed to be a "go anywhere, do anything" type of sandal for those inclined to the sporty life. The Teva sandal is the world's first sports sandal, reminiscent of the ones used by the ancient Romans, and has been a dependable brand for over thirty years.
Teva sandals consist of 3 parts: the toe post, the heel strap, and the side strap. These straps are connected to each other by triangular rings where each strap goes around one side of each each. The 2-layer sole consists of an inner, softer one that serves as a footbed, and there is also arch support and Microban Zinc, which is a technology that prevents odor.
Just because we're the Working Person's Store doesn't mean that we don't share Thatcher's affinity for the sporty, "go anywhere, do anything" lifestyle! We've got more than 20 style of Teva sandals and shoes to choose from. Whether you like hiking, biking, hanging out at the beach, or all of these activities, we gotcha' covered!
For that weekend at the boardwalk, look at the Women's Black 1003990 BLK Tirra Slide Sandals. These reliable sandals are comfortable, resilient and stylish in their simplicity. For the rugged hiker, why not consider the Teva Men's Brown 4072 BRN Waterproof Forge Pro eVent Hiker Boots? If you go hiking a lot, you're aware of the tendency for the feet to get all clammy. You're also aware of the chance that rain will come your  way. Well, both of these nuisances are problems no more with these waterproof, breathable sandals. Ladies, have you ever wanted a sandal that looks more like a shoe? If so then the Teva Women's Bungee Cord 1000271 BNGC Brown Closed Toe Ewaso Sandals are a good choice. They have the look of a shoe, but the functionality of a sandal.
Teva is a mainstay in the sandal world. Trustworthy, durable, and classic, you know that we at Working Person's Store only offer the pinnacle of quality products.