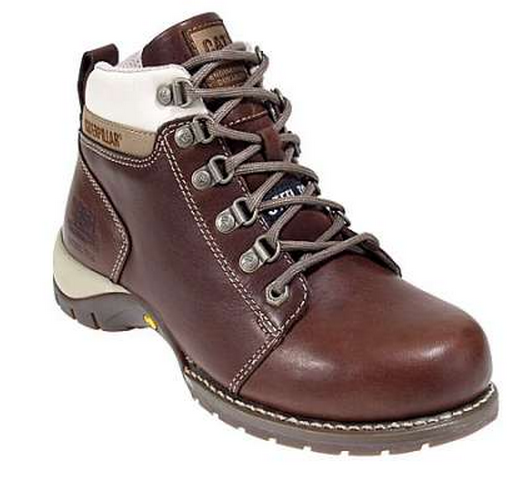 Because they're tough as nails, professional women in the workforce have earned their way to the top – fending off stereotypes and bumps in the road along the way. CAT proudly introduces some new lines of their footwear, designed specifically for the hard working females of the world. It's no longer just a man's world, with woman-powered industries, like manufacturing, agriculture, steelworks, carpentry, construction, and many more demanding occupations.
From 6-inch waterproof boots to tall steel toe boots, CAT does women's footwear right. When a woman needs to protect her toes from work hazards, her feet can fit securely within work boots that are made precisely for her. Athletic shoes are available as well, including Argon, Brode, and slip-on styles. With safety features like slip-resistance, static-dissipative soles, and electrical hazard ratings, women's boots made by CAT take ladies' footwear to another level of foot protection.
CAT Footwear is dedicated to making sure women are equipped with the proper shoes and boots required to get the job done – and to keep their feet safe. The CAT Footwear Women's Work Collection is the comprehensive solution for hardworking women in all industries. There are more females in the industrial workplace now than ever before (across all occupations), and safety features are a must.
Take a female welder, April, for example. Her feet need something just as strong as the welding mask she's wearing. She's highly specialized in her field, and she works on hazardous job sites on a daily basis. If she's not wearing the correct footwear, she could be seriously injured. She earns a high wage and deals with the not-so-ideal elements every day, like high heat, freezing cold, water hazards, and electricity. For April to get through her work day, her feet need excellent abrasion-resistance, durability, flexibility, insulation, puncture-resistance, oil-, and slip-resistance…for starters. She works hard, so she needs to own reliable women's footwear.
Each tiresome job, like that of a heavy industrial worker, has safety precautions that need to be taken seriously. All work shoes are not made alike. Let's break down people's feet: as obvious as it may seem, studies have shown that a woman's foot differs from a man's, namely in shape characteristics. The arches, lateral sides of the feet, and balls of the feet of a woman tend to be naturally slimmer and shorter those of a man.
CAT Footwear Women's Collection takes all of this into account, using these exact characteristics and pairing them with durability to develop properly-fitting, tough, AND comfortable women's shoes. There will be no more borrowing men's boots, which used to leave women's feet with blisters from too wide of heels and achy arches from the incorrect type of support.
Committed to innovation, CAT has developed work footwear designed to fit her feet specifically. Take a look at what Working Person's Store has to offer!