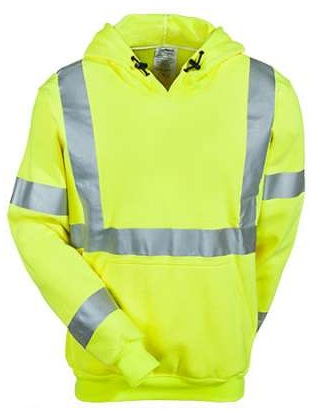 Just as every occupation requires a variety of different tools needed for the job, every profession also requires different safety workwear.  Depending on the tasks and the risks involved, workers must choose apparel that will ensure their safety while on the job.  The American National Standards Institute, or ANSI, is a private, not-for-profit organization which approves standards for a multitude of fields with the goal of assuring safety and health while also protecting the environment. ANSI has approved of standards on safety workwear which can serve as guidelines for workers interested in selecting the right clothing for their profession.
A worker must know the difference between ANSI Class 3 high visibility clothing, Class 2 clothing and non-ANSI apparel and when it is appropriate to wear each type of garment.   So, what distinguishes one type from the other and how do you know which one is right for your job?
ANSI Class 3 apparel is to be worn by workers who need the highest visibility.  These are workers who have high task loads and must always be visible during a full range of body motions.  Any worker who is clearly placed in danger, exposed to reduced sight-distances and has a high task load that often diverts their attention should wear Class 3 apparel.  Class 3 apparel will ensure that the worker is conspicuous through a full range of body motions at a minimum of 1280 feet.  Class 3 apparel includes at least 4.3 yards of retroreflective material that is at least 2 inches wide.  Workers such as emergency response personnel, railway workers, utility workers and accident scene investigators should wear Class 3 apparel.
ANSI Class 2 apparel is worn by workers who are exposed to traffic traveling over 25mph and who are working against complex backgrounds.  These workers work in close proximity to traffic and perform tasks that may divert their attention from oncoming traffic.  Class 2 apparel includes at least 4 yards of retroreflective material that is at least 1.375 inches wide.  Wearers of Class 2 apparel include dog walkers, parking lot attendants, delivery vehicle drivers and really anyone who wants to stand out.
Finally, Non-ANSI high-vis apparel are garments that are color enhanced for an additional level of safety while performing low-risk activities.  Non-ANSI apparel does not meet ANSI standards but is useful for workers who need extra visibility, a change of clothing for lunch breaks while on job sites, or a base layer under ANSI certified workwear.  Non-ANSI apparel can be worn by joggers, shopping cart retrievers, recreational workers and, again, anyone who feels the need to stand out.
Working Person's Store carries all of the high-visibility apparel you need, including Class 3, Class 2 and non-ANSI apparel. For your own ANSI approved products, visit WorkingPerson.com today!