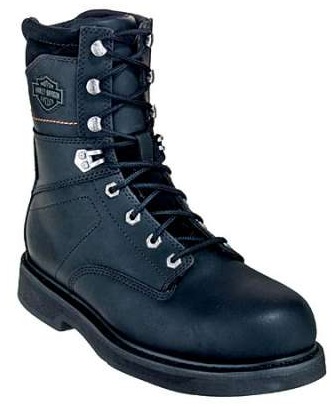 If you're looking for a pair of riding boots that offer the strength and durability of leather with cutting-edge style, look no further than motorcycle riding boots – a motorcyclist's staple that has now become mainstream.  The Bates Tahoe Riding Boots, from the Bates Riding Collection, and the Constrictor Harley Davidson Motorcycle Boots, both available at Working Person's Store, are two styles offered by well-known boot brands that promise high-performance and that coolness factor unique to riding boots.
The Bates Tahoe Boots, just one style in the new 2012 Bates Riding Collection, is an 11-inch, full-grain leather boot available for men in black (44100)  and brown (44108).  With a look that invokes the ruggedness of the open road, these riding boots also come complete with a variety of special features that make them tough against the elements.  These Bates Riding Collection includes Hydro-Guard waterproof membrane functionality and, for comfort that goes the extra mile, a full-length cushion sock liners.  For traction and protection, the Bates Tahoe Boots feature oil-resistant Vibram rubber outsoles and a durable Goodyear welt and the YKK locking inside zipper allows for easy on and off.  The versatility of the Bates Tahoe is sure to make it a leader amongst riding boots worn both for fashion and for functionality.  Check workingperson.com for pricing and full details on the Bates Tahoe and other styles in the 2012 Bates Riding Collection. Additionally, Bates Boots and Shoes are offered in a variety of styles including USMC boots, uniform shoes, Zero Mass Boots, hiking boots and many more.
Harley Davidson has long been a respected name in the world of motorcycle boots.  The Harley Davidson Constrictor only serves to uphold their trusted reputation.  The Constrictor boots (95276) stand out against other Harley Davidson boots in that it features a refined and fashionable silhouette that will help it break out into the fashion mainstream.  With a distressed full-grain leather upper, the Constrictor has a worn-in and authentic feeling.  These leather riding boots also includes the H-D classic harness silhouette and a subtle cross stitching on the ankle strap.  To ensure comfort, these Harley Davidson riding boots have full-length cushioned sock liners and padded collars.  An oil-resistant tread design of Harley Davidson boots along with the rubber outsoles keep wearers protected on the road. Harley Davidson is not only a manufacturer of motorcycles and riding boots, they also offer HD work shoes and safety toe hiking boots as well as Harley Davidson glasses, all available on WorkingPerson.com.
Whether you're a motorcycle enthusiast or you're seeking a tough and authentic fashion accessory, check out Working Person Store for all of your motorcycle and riding needs.