Are you tired of sacrificing comfort for safety when it comes to your work boots? Look no further than the CAT Invader boots, a range of rugged outdoor footwear designed to make your workday not only safe but also stylish. We're featuring four standout styles – P91541, P91286, P91542, & the P91287 that are all available at Working Person's Store (while supplies last). There's a perfect Invader hiker design ready to meet your specific needs.
Special Features of CAT Invader Boots
Durability: CAT is known for their heavy-duty equipment, & their men's & women's work boots are no exception. The Invader boots are constructed to withstand the toughest conditions, ensuring they last through the harshest work environments.

Comfort: These leather hiking boots aren't just about long-lasting wear – they're also designed with your foot comfort in mind. The padded collar & cushioned insole provide all-day coziness, allowing you to stay focused & productive throughout your shift.

Safety: Protection is a top priority, & all Invader boot styles listed here are equipped with safety toe caps (either composite or steel toe caps), offering shielding against potential workplace hazards. Plus, the slip-resistant outsoles will keep you stable on slippery surfaces.

Moisture Management: Don't let wet conditions slow you down! The moisture-wicking lining in these weather-ready CAT boots helps keep your feet dry & comfortable, even when the workday gets a bit sweaty or when inclement weather tries to stop your production.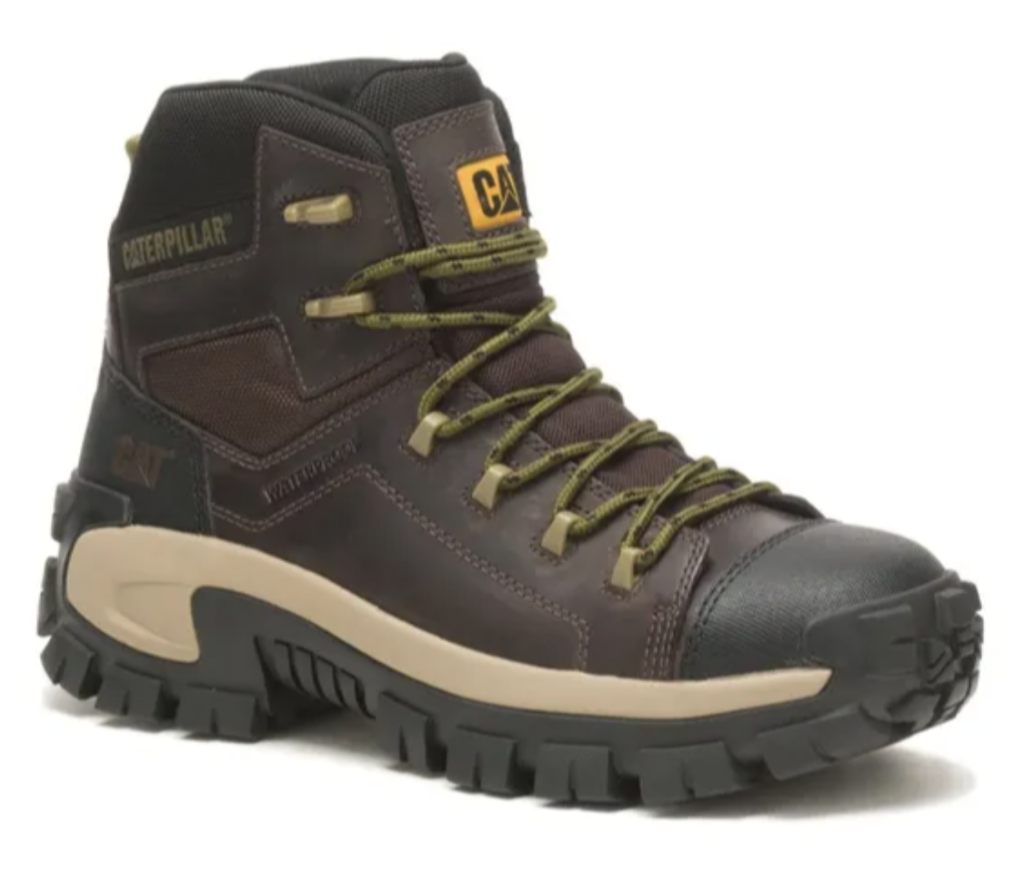 CAT Invader P91541: A Classic Choice for Workers

If you're looking for a classic, no-nonsense hiking work boot, the P91541 is the perfect choice. This style combines the traditional work footwear appearance with CAT's signature durability & safety features. The lace-up design allows for a secure fit, & the leather upper promises longevity. You'll have the support of electrical hazard coverage as well as superior waterproofing on your side, too. Whether you're working on a construction site or in a warehouse, the P91541 is ready to tackle the challenge with you.

CAT Invader P91286: The Versatile Workhorse

The P91286 offers a versatile alternative for workers who need a genuine steel toe boot that's as tough as their job. Its rugged design with excellent slip resistance is incredibly convenient for those on the move. You can put on these EH leather boots & get straight to work. The Honey reset-colored leather upper not only looks good but also resists wear & tear, making these a great choice for a wide range of professions.

CAT Invader P91287: Built for Extreme Conditions

For those facing the most extreme conditions, the P91287 is designed to meet your needs. This hiker-style work boot makes sure your feet can handle challenging working conditions. The high-top design will give you ample coverage when & where you need it the most, offering ankle stability & cushioning as well. The P91287 will keep you going with its tough exterior & comforting interior. Steel safety toe caps are included for enhanced toe protection.

CAT Invader P91542: The Ultimate Work Boot Upgrade

Introducing the CAT Invader P91542, a footwear design that will truly take your workday to the next level. With light composite safety toe protection, slip-resistant outsoles for unbeatable traction, & reliable waterproofing, this style blends rugged durability with modern convenience. The P91542 was created for those who demand both safety & style on the job. Get ready to upgrade your work footwear game & conquer your day with the CAT Invader P91542!

CAT Invader boots offer a solution for every worker's needs. Whether you prefer the classic lace-up style of the P91541, the convenience of the P91286's sturdiness, the high-top support of the P91287, or the lightweight safety features of the P91542 style, you'll find the perfect hiking work boot to help you conquer your workday. Gear up with CAT Invader footwear – available at Working Person's Store!