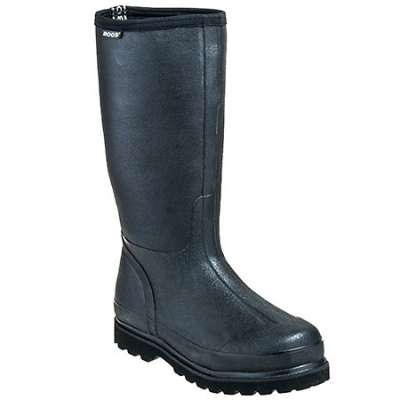 It's been a long day. You sit down and slowly take off your old work boots, and you dread what's next – peeling off those nice, wet socks. When your work footwear can't handle the rain, and it gets soaked all the way through, your feet take the hit as well.
There are better options for you. Waterproof footwear is designed specifically to keep your feet and socks dry. It's as simple as that. You might think this only includes rain boots, and perhaps you're already imagining yourself jumping through puddles with a brightly-colored pair of them. While that might sound like fun (and nobody's stopping you), there are various kinds of waterproof shoes that'll make sure the elements stay on the outside – where they belong.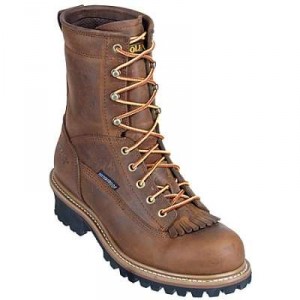 Carolina footwear is a great choice for hardworking people. This particular pair, Carolina logger boots available at Working Person's Store, features waterproof SCUBALINERS. These liners are part of Carolina's exclusive proprietary waterproof lining system, so you know they mean business. When you're wearing these men's boots, you'll have 100% waterproof protection from the durable membranes. They're designed to withstand even the wettest working conditions.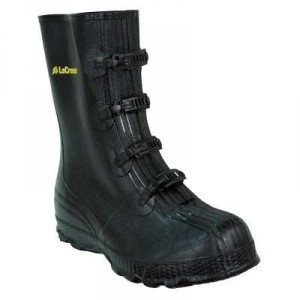 Maybe you'd like to hang on to your current pair of men's or women's boots…hey, they fit well, and they're so dang comfortable. Why fix it if it ain't broke? There's still a clever course of action for you: waterproof overshoes. They do just what you'd guess…they go over your shoes. You can guard your feet AND your work footwear from the rain. LaCrosse specializes in making sure your feet stay comfortable, and that includes keeping them dry. These LaCrosse boots have a 100% waterproof rubber shell that's abrasion-resistant, too. The smallest details matter as well – there are rustproof buckles to add even more durability for you.
You can't go wrong with Bogs footwear, either. Most of their styles are slip-ons, and that makes it easier for you to get ready for your big work day. The 100% waterproof footwear comes in a variety of designs to accommodate your needs. Some are ankle-height, while others give you 12 inches of coverage. Solid colors, camouflage, men's, women's, and kids'…you have plenty to choose from to find what's best for you. With their moisture-wicking and anti-microbial linings, sweat and moisture are pulled away from your skin. Your feet will stay dry, and they'll also be comfortable and healthy.
Whether you need waterproof athletic shoes, cowboy boots that'll keep your feet dry, or trusty muck boots to help you plow through the mud, Working Person's Store has waterproof footwear to ensure your end-of-the-day routine involves dry socks and a happy you.