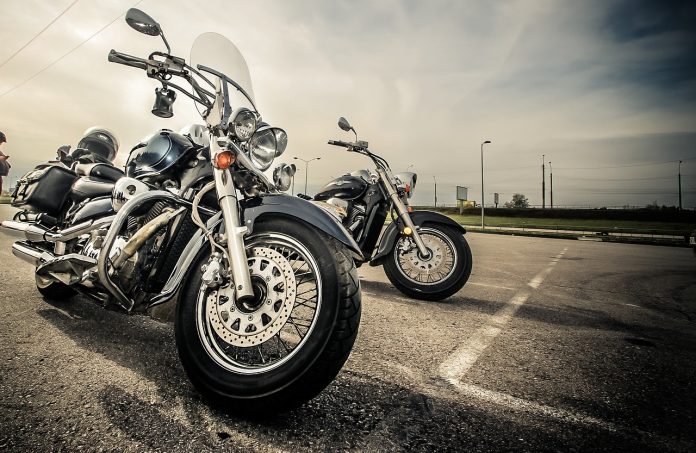 May is Motorcycle Safety Month and at Working Person's Store we want to focus on the gear riders need to stay safe and look cool while doing it. The National Highway Traffic Safety Administration (NHTSA) recommends that all motorcyclists wear helmets that meet the U.S. Department of Transportation (DOT) Federal Motor Vehicle Safety Standard (FMVSS) 218 for protection. In addition to helmets–and safety gloves–there are boots, jackets and other apparel that will make your ride safer and more comfortable.
Wearing protective boots while riding can help reduce your chance of injury if you're involved in a crash. Boots that go past your ankles will also give you support you need when balancing on your bike. At Working Person's Store we offer a wide selection of boots just for motorcyclists from brands like Harley Davidson, Chippewa and more.
Our Harley Da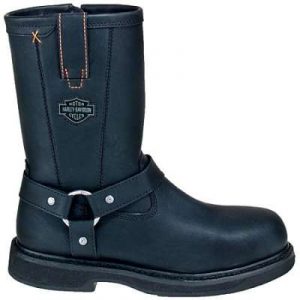 vidson Men's Black Steel Toe Welted Pull-On Motorcycle Boots 95328 give you a classic biker look that shows everyone you own the road. A subtle Harley Davidson logo is embroidered onto the shaft while the buckles on the side and YKK inside zippers complete the design. The 9.5-inch uppers on these slip on boots will give you coverage and protection for your lower legs and feet. The heels have a 1.5-inch lift to give you better grip on ladder rungs. To give you even more protection, these boots have steel toes and are ASTM F2412-11 I/75 C/75 rated for safety. With the full cushion sock lining and ShockAbsorbers TwinPad comfort technology, you'll want to wear these boots for a long Sunday drive or your daily commute.
Known for their sle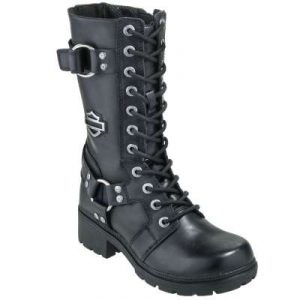 ek and stylish American engineering, Harley Davidson created the 83736 Women's Black 9-Inch Eda Motorcycle Boots to work for any motorcyclist who loves the open road. Crafted from full-grain leather, these boots are flexible enough to move and bend with your feet even in wet conditions. The 9-inch shafts will give you plenty of ankle support and include locking YKK zippers on the inside. Designed with metal hardware accents and the distinctive Harley-Davidson logo, these boots have a tough yet stylish look that will complement any bike. When it comes to comfort, these boots are unmatched. The lace-up design gives you a custom fit all the way up, the full-length sock lining provides added cushioning and the shock-absorbent lining softens impacts.
When it comes to biker clothing, NHTSA recommends that motorcyclists completely cover their arms and legs with tough quality gear like leather or heavy denim. You'll want gear that keeps you protected but doesn't get in the way of your good time. That's where we come in.
The Milwaukee Women's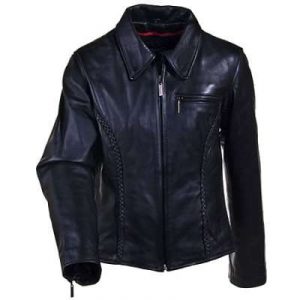 M10067 Black Leather Electra Biker Jacket has a sleek style and fit to work for female bikers. The tough yet flexible leather will be able to withstand the wear and tear of life on the open road. The Thinsulate warming insulation is quilted to create a soft and warm interior for colder weather. The vented arms give you a full free range of motion so you can move like you need to without restriction. The wide collar, ribbed sides and braided detailing on the front, back and sleeves, make this jacket that sidekick you'll want with you on every ride.
The Milwaukee M5096 M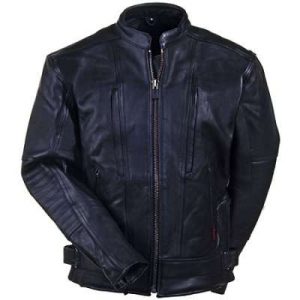 en's Belle Fourche Biker Jacket isn't for everyone. It will hold you to a higher standard of cool. If you think you're up for the challenge, you'll enjoy a long sleeve,
zip-up design with glossy sheen and style. The mock collar gives this jacket a modern edge. The strap adjustments at the waist give you the customized, perfect fit you deserve. On warmer days, you can remove the red inner lining; on cooler days you'll be thankful you have it. To give you flexibility and encourage air flow, this biker gear is made with four vents–two in the front and two on the back. Spandex inserts in the shoulders create a stretchy fit that won't hold you back. The padded elbows provide additional comfort. The sleek line of reflective piping across the back gives you protection by making you more visible to drivers and fellow riders so you can ride all night long.
Made from top-grain co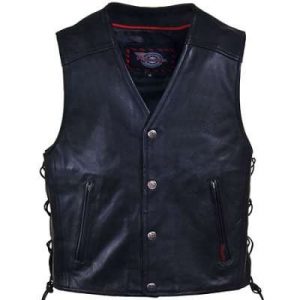 whide, our Milwaukee M349 Men's Joker Motorcycle Leather Vest is a glossy, black favorite that will give you an edge on the road–not that you needed one. This hard-wearing leather is resistant to the elements which will help protect your upper body from winds, rain and small debris. Four front snaps hold this vest closed, while the lacing system on each side creates a the perfect, customized fit.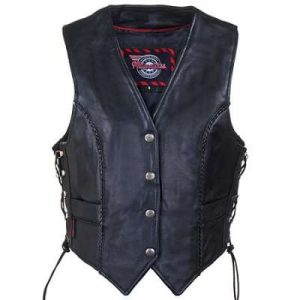 The Milwaukee M10069 Women's Leather Deuce Motorcycle Vest is made with top quality
materials. The leather is supple yet durable. The front has four snaps down the middle and two flat pockets, for a sleek finish and no unwanted bulk. The inside is lined for your comfort. The sides have lace-up seams that give you a customized fit and an added level of style so you can enjoy the ride and look great doing it.
Our Carhartt Men's B1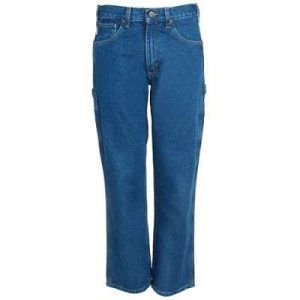 71 DST Relaxed Fit Denim Carpenter Jeans are the perfect pair of
pants for riding because of their comfortable fit and tough construction. You'll feel the relaxed fit of these jeans in the seat and thigh area–which you'll appreciate on your bike. Carhartt created these jeans to sit just below the natural waist. If you're wearing the jeans on the job, you'll put the hammer loops, ruler pocket and cell phone pocket to good use. Built to last like all riding gear should be, every main seam of these pants are triple-stitched for extra strength.
When you're riding, wind can cause dust and debris to get in your eyes. Your bike's windshield and your helmet's face shield will be your first and second lines of defense to keep you protected. It's also crucial to wear goggles or glasses to keep your eyes safe. At Working Person's Store we offer dozens of styles of safety glasses that will help you on the open road.
Our Wiley X 697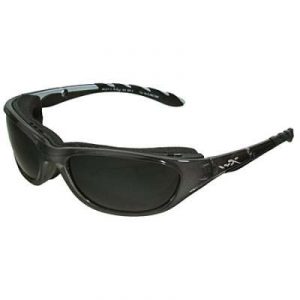 AirRage Polarized Motorcycle Climate Control Sunglasses support your
adventurous side without getting in the way. They offer maximum protection without any bulk. The venting system in the frame allows air to flow through your shades giving you extra comfort and cool. The removable facial cavity seal gives you extra coverage when you're riding through high-risk environments. These glasses also exceed ANSI ratings for high velocity safety and deliver 100 percent protection against UV exposure and are polarized to reduce glare. The elastic strap                                                                     and leash cord will make these your ultimate                                                                         sidekick that you won't forget.
Who says being the safest biker on the road can't be the best looking? We are proud to support the safety and recreation of bikers everywhere. Shop our collection of apparel for motorcyclists including top brands and quality pieces.