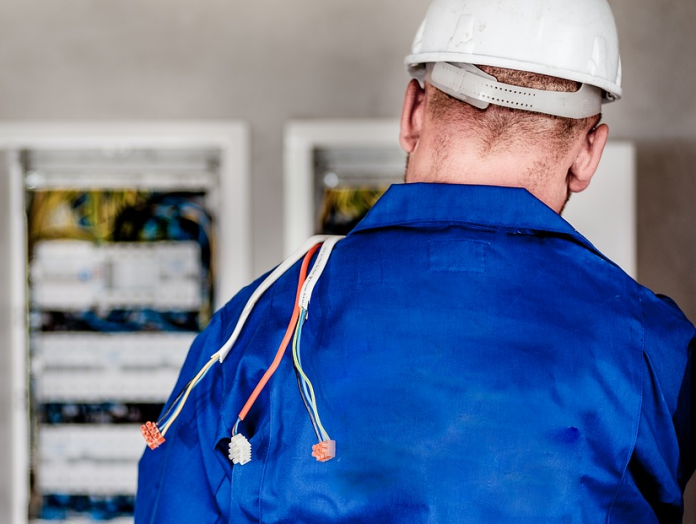 What's all the buzz about? May is National Electrical Safety Month; an observance created to help reduce the number of electrically-related fires, fatalities, injuries, and property loss. A crucial way for electrical workers to stay safe is to wear the right Personal Protective Equipment (PPE) on the job. According to the Occupational Safety and Health Administration (OSHA), PPE for the electric power industry generally includes safety glasses, face shields, hard hats, safety shoes, insulating (rubber) gloves with leather protectors, insulating sleeves, and flame-resistant (FR) clothing.
If you're an electrical worker, you know that the nature of your job has risks. Your employer has likely discussed with you what gear you need for your assignments—or you've done a risk assessment yourself if you're self-employed. The NFPA 70E standard, Electrical Safety in the Workplace® helps electrical workers make the determinations on what specific apparel is necessary for the level of risk their environment or task poses. At Working Person's Store we offer a wide variety of gear to keep electricians safe in environments that could cause harm.
Safety Glasses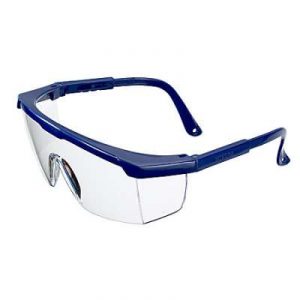 To keep your eyes protected, safety glasses need to be worn at all levels of electrical work. Our Pyramex Integra Clear Lens Safety Glasses SN410S will give you maximum visibility as well as impact protection. These glasses keep dirt and debris from damaging your eyes and also offer 99 percent protection from UV rays. View our full selection of safety glasses to find the pair that works for you.
Boots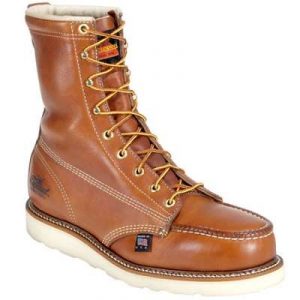 From an electrical standpoint, leather boots are your safest footwear option on the clock and are recommended in the NFPA standard. Take into consideration all other hazards you may face on the job—like impacts or slips—to make sure you're choosing footwear that is tough enough for your line of work.
Our Thorogood Men's Steel Toe 804-4208 EH Vibram Sole Work Boots are a popular footwear choice at Working Person's Store and it's easy to see why. U.S.A. made with tobacco oil-tanned leather, these stompers are stylish, flexible and built for comfort. As an electrical worker you log many hours on your feet so you need features that will reduce foot stress and fatigue. That's why these boots come with removable footbeds with dual-density ultimate shock-absorption as well as light-weight rubber midsoles and fiberglass shanks. The soles are also non-marking and slip- and oil-resistant to give you excellent traction. These boots have an electrical hazard rating that meets CAN/CSA-Z195 standards (up to 18,000 electrical volts of shock-resistance) and offer you steel-toed protection.
Hard Hats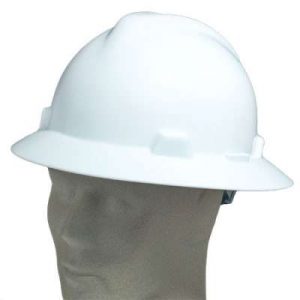 OSHA requires nonconductive head protection wherever there is a danger of head injury from electrical shock, burns, or from flying object as a result of an electrical explosion. When choosing what protective helmet is right for you, keep in mind that most hard hats are rated for 2,200 volts (class G), but some have a rating of 20,000 volts (class E).
Our MSA White 454 475369 Full Brim Ratchet System Safety Hard Hat is made with heavy-duty construction and is designed to safeguard both men and women in tough occupations. This gear meets ANSI Z89.1 2003 Class E and G safety standards for keeping your head safe. And while it offers tough-as-nails protection, its lightweight composition of 1.05 pounds won't get in the way of completing your workload.
Fire Resistant Clothing
If an arc flash event takes place, the high temperatures can cause everyday clothing to ignite and continue to burn on the body. Unfortunately this is when serious injury and death often happens. That's why it's crucial for electrical workers to wear flame resistant clothing.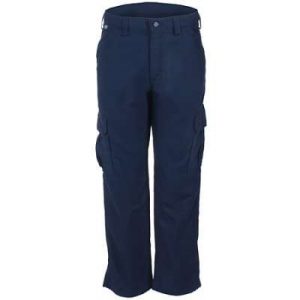 Our Carhartt FR FRB240 DNY Flame Resistant Cargo Pants- Dark Navy are NFPA 70E Compliant and have a HRC 2 label sewn on the front waistband. The 8.5 ounce canvas is made from cotton and high tenacity nylon which provides exceptional FR protection and comfort. Even the button closure at the waist of these pants is arc resistant. The brass zipper is coated with Nomex tape which is fire resistant and will protect your body from the heat. There are two large side cargo pockets with a pen slot and two reinforced back pockets to provide you ample storage. The 19 inch leg openings will easily fit over work your boots. The waist sits slightly below the natural waistline to give you a natural and comfortable fit. The triple stitched main seams give you a quality product that you can wear on the job again and again.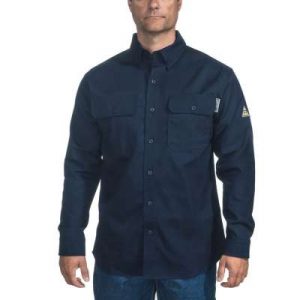 Complete your electrical safety month ensemble with the Working Person Men's FRS160 NVY Navy FR American Made Oxford Shirt. Its soft, breathable Arc Defender fabric and tailored construction give you comfort and safety in one. This piece gives you dual compliance–with both an HRC/ARC 2 rating for arc flash–and UL certification to the voluntary code NFPA 2112 for flash fire. It's also compliant to NFPA 70E, OSHA 1910.269, OSHA 1910.960, and NESC 2012. This shirt also meets the ASTM F1506 rating for flame-resistance. With 6.9 ounces of flame-resistant 100% cotton twill this shirt is made from comfortable material you'll appreciate on a long, tough day. The double top-stitch construction ensures longevity you can count on and the large arm openings give you freedom of movement.
Visit WorkingPerson.com and find apparel that can help protect you from electrical hazards on the job. Be sure to assess your work environment, consult NFPA and OSHA guidance and check with your employer to decide what PPE is right for you.