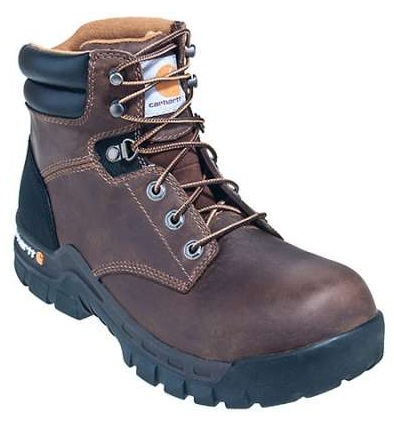 The name of the topnotch workwear provider, Carhartt, is again introducing the best work boots for all sorts of hard working people. For decades, Carhartt has been the leading brand in the industry of quality workwear ranging from jackets and pants to versatile work boots.
Carhartt work boots are widely known among corporate personnel for their variety of styles for both safety and comfort. Almost every business person feels confident about the quality of Carhartt's safety work boots due to their compliance with all the laws and safety regulations. That's why these work boots are a symbol of appreciation for every worker who purchases them.
Most of Carhartt's work boots have an outer covering of full grain, oil tanned leather with padded collars and tongues; this gives the wearer right-fit and comfort. These work boots are simply best for long hours on the job, as the dual-density contoured cushioned footbeds and OrthoLite top layers with PU,  providing enough cushioning to alleviate foot weariness. Moreover, the top layers are designed in such a way that it allows circulation of air into boots, thus help to keep your feet dry, comforted and free from bacteria or fungus. The EVA heel inserts are positioned between your heel and ground contact and provide comfort to your feet by their upbeat and energy recovering properties. Another feature of these Carhartt work boots, which makes them most desirable for feeling comforted for a longer period, is full-length EVA inserts with steel shanks. These lightweight pads absorb the impact of any hit and strike impact from walking a moving around on hard surfaces, and the EVA does not weigh you down. In these smart work boots, another additional layer of comfort is provided through PU cushioned Strobel covers and gaskets.
Along with the above-mentioned comfort features, Carhartt work boots are also providing ultimate safety with features like rubber heel covers, which provide great protection to the back of your boots against heavy equipment and machinery, thus keeps you safe from any injury at work. The nice and wide composite safety toes support your feet with extra room, thus making your movements safe and comfortable. The WorkFlex boots (composite – #CMF6366/ soft-toe #CMF6066) feature rubber outsoles, allowing for the best fit for any job and any workplace. Their performance outsoles provide grip, traction, and flexibility in almost any environment and with a combination of gripping lungs, abrasion-resistant rubber and ladder lock channels you will have not only exceptional safety features but a great looking pair of work boots, as well.
Carhartt's work boots are designed with a great technology to provide all the best possible features of safety, comfort, and durability to the working persons. Almost all the features mentioned above are available in a great range of sizes with some variation of styles too. Want a pair of Carhartt boots for yourself? Visit WorkingPerson.com and buy the best workplace experience for your best work asset, i.e. your feet.