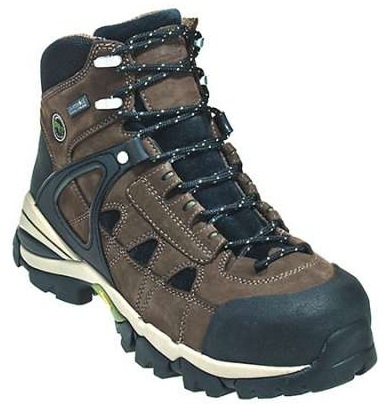 You might feel as though you could play basketball outside in winter or Thanksgiving family football all afternoon in Timberland PRO's Insulated Hyperion work boot, in stock at Working Person.com this fall.  It's a comfortable image and reality for those whose work boot experience conjures up heavy, tight on toes, and inflexible.  The athletic ease, wide sizing, and new warmth that signify the innovations of the new Hyperion 6" XL Insulated Composite Safety Toe (Style #91611) mean your 12-hour shifts – or that of your whole work team's – in next season's cold weather will be supported every step with ongoing comfort.  And even your off-duty activity will provide comfort!
Timberland PRO boots are a renowned Industrial Outdoor work boot line with a long list of top technologies; and, with the practical update, feet get the ultimate work boot experience: heat containment, lightweightness, and safety.  The newest feature of the Hyperion is an efficiently flame-laminated Thermolite, 400-gram insulation for warmth without bulk and contributes to that non-work boot look. Among the technological innovations of this PRO, for example, includes Timberland's proprietary Anti-Fatigue Technology delivering shock absorption, with molded, inverted cones that support, collapse, and return in key pressure zones and a contoured insole, assuring the Timberland PRO Hyperion helps increase energy for workers' feet during long hours of active teamwork.
Whether your work boots – or your workers' footwear – are safety mandatory, reimbursable every year, tax deductible, or recommended by the safety director (you), toes are safe in factories, industrial areas, shipping departments, and trucking lines of work with the composite TiATAN  XL Alloy Safety Toe in the PRO Hyperion.  These provide lightweight but serious protection for vulnerable feet on the job.  Generous fit in Styles 89506 and 90646 in the Timberland PRO Hyperion allow toes to wiggle properly without touching, overruling a major protection objection for many workers. The PRO's double toe and Ever-Guard Leather backstay provides durability from dropped items and shuffling through hazardous zones. Even engineers who might be in and out of factory floors can wear them daily with comfort.
Vibram outsoles on the Timberland PRO Hyperion provide durability and traction, necessary for working year-round in rental shops or construction sites –outdoor comfort bottom, top, and inside.  Nails underfoot and dropped tools on the toes are no problems wearing these boots.  Warm enough to handle Northern temps, flexible and comfortable enough to wear trimming trees or squatting to check places or parts in car shops, they even provide flexibility for climbing ladders and safety from fallen electrical shock dangers – the Timberland PRO Hyperion comes with a 30-Day Comfort Guarantee.