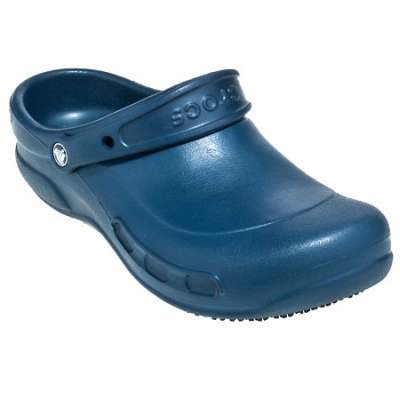 Originally developed as a spa shoe, it's no surprise that Crocs have built their reputation on out-and-out comfort. Founded in 2002, they took their first design ('The Beach') to a Florida boat show and sold out all 200 shoes in a matter of hours. But it wasn't until 2006 that they really caught the public's imagination.
Since then the Crocs brand has gone from strength to strength, and divided public opinion equally, every comfortable step of the way. So while the fashionista's turned their noses up, the public kept on buying. Partly because they were so easy to wear, but also being seen regularly on the feet of famous faces like Michelle Obama did the brand no harm either.
But far from ever courting the affections of the rich and famous, at the core of Crocs' more recent marketing has been comfort over fashion, pinning their longer-term hopes on the feet of the world's workers who spend the majority of their days on their feet.
So this is great news for those working in the catering industry because whether you're a bartender, waiter, chef or host, there's a shoe designed specifically for you. And Crocs clearly doesn't want to limit the range of their working audience because with specialist shoes for nurses, doctors and other service professionals – whatever you do, they want to get you through the shift as comfortably as possible.
And the more job-specific the shoe, the more specific the demands on each design. That's why their range of patented Croslite material work shoes not only support your feet through a long work shift but most also come with Crocs Lock technology that stops you slipping around on the job. It's all thanks to a unique resin composition that is as light as it is durable. So whether it's on the ward, in the bar, or out on the shop floor – wherever you plant your feet, you can do it with more confidence.
And whatever shoe you need, all Crocs are easy to clean and odor-resistant. So however dirty you get doing whatever it is you do, a simple bit of soap and water will bring them up like new.
Check out our full range of versatile, flexible and durable Crocs work shoes – online now at Working Person's Store. They're just what the doctor ordered! Or the waiter, or the barman…