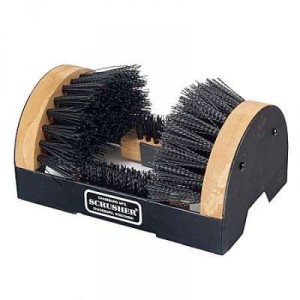 (Written by guest blogger Richard Kallis from About Boots)
Finding the best work boots can often take an exhausting amount of investigation and time. Once you have found that pair of men's or women's boots that fit like they were meant for your feet, it's important to take proper care of them to ensure years of comfortable wear and protection. There are many different ways to help make sure your footwear is ready for action, whether you need to tackle the next outdoor chore in the remotest area of the UK or navigate down the crowded streets of Chicago. It doesn't matter where you're putting your footwear to the test, it's best to begin your maintenance right out of the box.
Know Your Enemy
The biggest enemy of your boots are dirt and water. When these elements come in contact with materials, they often leave behind unwanted water marks, damage, and odor. Depending on the amount of time and the condition of the water contacted, this issue can cause a multitude of problems that can also affect the physical condition and odor of the wearer's feet. Regular cleaning and avoiding wet or dirty conditions are great preventative and ongoing maintenance practices to elongate the life of your favorite footwear.
Strike First
Conditioning and treating the boots before putting them to use is a great way to preserve the integrity of the materials and protect your feet from the outer elements. There are successful methods of pre-treating materials such as creams, rubs, and sprays that are applied before footwear is put to work. One way to block out the elements is to use a treatment system such as the Carhartt Shoe Care.
The Instant Shine Kit CASC 1001
This complete boot care kit is able to protect your investment from a number of angles. It contains:
Bottle of cleaner/conditioner

Instant Shine Sponge

Bottle of Rain and Stain Repellent
Each bottle is 8 ounces, and the sponge is effective for over 100 individual applications. Made in the USA, this product offers a layer of protection on the boot surface to repel dirt and moisture before it penetrates into the materials.
Dirt-Free is the Key
Much of the long-lasting and damaging stains will be eliminated with the introduction of preventative measures, but when you're working in the wilderness of the Snowdonia National Park in the UK, dirt is sure to follow you home. It's important to remove any excess debris and dirt after each trek to the countryside in order to maintain a clean and breathable pair of boots. One simple way to remove any excess soil after a hard day is to invest in a rough surface dry cleaner/scrubber. This type of brushing system can be conveniently installed at the entrance to your home. 
Scrushers H 1 Original Safety Boot Scraper
This convenient brushing system will await dirt and debris at the entrance of your home to remove materials from the bottom, front, back, and sides of your best work boots with the simple action of rubbing the footwear between the bristles. This unit also contains such cleaning things as:
Flexible but sturdy bristles

This scraper is proudly made in the U.S.A

It has a 5-year warranty on the frame

The maple trim brings a visual contrast and a touch of rugged elegance

Black metal frame and black bristles give a sleek look to the unit
The open bottom design allows for excess dirt to fall through the brushes and keep your floors and your boots noticeably cleaner. Excess dirt or staining can be addressed with a clean, damp cloth and a re-application of a waterproofing treatment.

Defensive Drying
Perhaps the most destructive element that your footwear can encounter is water or some other type of liquid. Moisture can cause multiple issues, and when the situation ends with a damp pair of boots, quick drying is essential. Remove any surface dirt, and place the boots on a drying station, such as the Peet Thermal Convection Boot Dryer Rack. This will help to eliminate boot material decomposition and the subsequent foot odor that commonly comes with this type of situation.
Dry Out With the Peet Thermal Convection Boot Dryer Rack
From the shipyards, barnyards, to the corporate playgrounds, keeping your feet dry is a must for containing the integrity of your favorite boots, as well as keeping decay and odor at bay. This dryer offers:
Portability

Quick-drying capabilities

Easy storage

Energy efficiency
Keeping your favorite footwear around for a number of years takes maintenance and regular care. By using these preventative and cleaning methods, you can keep your footwear clean, dry, and odor-free for years to come. For ways to get rid of shoe odors, check out this infographic!