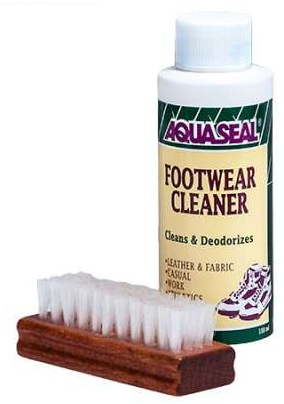 When you purchase a pair of high-quality work boots or shoes, you are making an investment.  You shop hard to find the best boot for your job with all of the right features and expect your boots to work for you by providing comfort and safety.  Quality boots have the potential to last you years and years and suffer minimal damage.  However, you must do your part and care for them properly and, thus, extend their life.
Owning a pair of boots made from leather or synthetic materials requires regular maintenance.  To preserve leather, you must clean it to remove dust and dirt and apply a leather conditioner.  Different leathers and materials, however, require different care steps.  It is important to read the label or box that comes with your boots to determine what materials they are made from.  From there, you can take the necessary steps to care for them.
For protection from water and stains, a non-silicone water and stain protector can be applied to most leathers and synthetic materials.  It is important to use it while the boots are still new and periodically throughout the life of your boots. For cowhide leathers and pigskin, leather conditioners and water proofing products should be applied on a regular basis.  Oil-impregnated leathers require heavy coats of leather conditioner as they are designed to take on more abuse.  Leather conditioners should not be used on naked (nude) finished leathers as they can darken the color of the boots.
To remove dirt and dust before conditioning, it is best to use a soft brush or a damp cloth.  Suede leather will require a soft nylon brush.  A soft, damp cloth should be used on patent leathers to preserve the shine.
Exotic materials such as snake skin will require more complicated maintenance.  Again, you should clean them with a soft brush or damp cloth.  Then, apply thin coats of a water based exotic conditioner.  If you want your boots to have a sheen, polish them with a matching color polish or creme polish.  With reptile skin, it is important to clean under the scales.  Spray reptile cleaners and conditioners are available that will foam up to clean under the scales.  Exotic materials are very very delicate and require frequent cleaning and conditioning.
When you commit to the regular maintenance of your boots, you can extend their life and preserve their look.  By making these simple care steps part of your work routine, you can save yourself money on repairs or even on new boots when the damages could have been easily avoided.