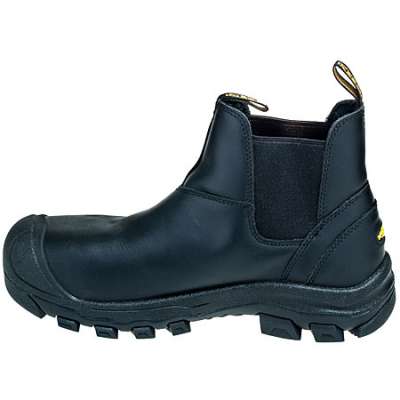 When you're out on the job, your personal safety starts from the ground up. And footwear safety is vitally important: one wrong step can lead to injury, meaning lost time and an uncertain future. So finding the right protective footwear that's not only comfortable but also protects your well-being, is key to starting out your workday on the right foot.
You already know you need the right tool for the right job – and the same is true for your work boots. So when you're working in a specific trade – in this case, working with and around electricity – extra special precautions need to be taken.
Electrical shock resistant (EH) footwear is made with non-conductive, electrical shock resistant soles and heels; the outsole gives you a secondary source of electric shock protection, against contact with live electrical circuits, conductors, parts, or tools.
And in order to fully comply with the strict safety standards around EH footwear, they have to be able to withstand 14,000 volts at 60 hertz for one minute, with no current flow or leakage current in excess of 3.0 milliamperes, and all under dry conditions.
To make it easy to identify them over other safety shoes or boots, they will have an 'EH' clearly visible on the ASTM label sewn inside the work boots. In short – if your work shoes are marked 'EH', they're two letters not to be taken lightly.
And just so there's no confusion between EH and any other type of safety shoe, Electrical Hazard (EH) shoes are specifically designed to reduce the flow of electricity through the shoe and into the ground, meaning you're less likely to be electrocuted. So think about where you're working and make sure you make the right choice.
To help you do that we've come up with some top tips for buying the right EH work boot:
Do your research first – Find out what specific requirements there are in your work environment. It might be that there are large electrical fields generated in your workplace. In that case, you're more likely to need ESD shoes or boots instead.
Bear in mind – Feet tend to swell throughout the day, especially if you're on your feet all day. By thinking a size or two up, depending on where you work, your work boots will feel more comfortable, even on long days.
Don't forget about comfort – At Working Person's Store, you'll find many different brands, stacked with modern touches, to go with the great high standards of safety protection available now. Metatomical insoles; lighter, more asymmetrical steel-toes; additional padding; and other hi-tech comfort features, all go into making a pair of work boots that can be as comfortable as your favorite sneakers.
And don't forget – taking proper care will give you and your boots a longer life together. Treat leather with mink oil or leather treatments, to keep everything supple and more water resistant. And be sure to store your boots in a clean, dry place to keep the odors out and preserve the leather for longer.