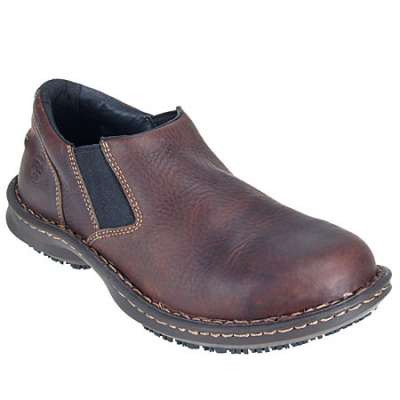 Static dissipative footwear (ESD) is designed to protect you against hazards, due to really low footwear resistance, while keeping a high enough level of resistance to reduce the possibility of electric shock. And to qualify, the footwear has to have a lower limit of electrical resistance of 106 ohms and an upper limit of 108 ohms.
Put simply, ESD work boots reduce the amount of static electricity that can build up in your body.  But unlike Electrical Hazard (EH) work boots, ESD boots can be either steel toed or soft.  They actually conduct static electricity through the linings, the insole, outsole, and into the ground.
And so you can be sure what you're pulling onto your feet before you set out to work, ESD shoes or boots will have an "SD" clearly visible on the ASTM label sewn inside them.
But there are some pretty tight rules around modifying, or altering your ESD work boots too.  First, you can't add your own insole to the shoe because unless it's explicitly an ESD insole, static electricity can't flow through it. Also as a guide to keeping safe, try to keep the floor and the bottom of your ESD work boots as clean and free from dust as possible, this means the static electricity can dissipate properly, flowing straight through the sole and into ground.
You'll normally wear ESD work shoes or boots in two types of environments:  handling large numbers of computer components, or in plants where the machinery creates a large static electricity field during the manufacturing process.  And that static field builds-up in anyone working in that environment, so when they touch metal that goes to the ground, or that has a neutral or less charge than their body has – that's when you'd feel a 'shock'!
So it's worth remembering that although ESD shoes can help, the floor, mats, and machinery also need to be grounded, to reduce the static electricity field in any workplace. So think about where you're working and make sure you make the right choice.
To help you do that we've come up with some top tips for buying the right ESD work boot:
Do your research first – Find out what specific requirements there are in your work environment. It might be that there's more chance of an electric shock because you're working with with live electrical circuits, conductors, parts, or tools. In which case you're going to need EH boots or shoes instead.
Bear in mind – Feet tend to swell throughout the day, especially if you're on your feet all day. By thinking a size or two up, depending on where you work, your work boots will feel more comfortable, even on long days.
Don't forget about comfort – At Working Person's Store you'll find many different brands, stacked with modern touches, to go with the great high standards of safety protection available now. Metatomical insoles; lighter, more asymmetrical steel-toes; additional padding; and other hi-tech comfort features, all go into making a pair of work boots that can be as comfortable as your favorite sneakers.
And don't forget – taking proper care will give you and your boots a longer life together. Treat leather with mink oil or leather treatments, to keep everything supple and more water resistant. And be sure to store your boots in a clean, dry place to keep the odors out and preserve the leather for longer.