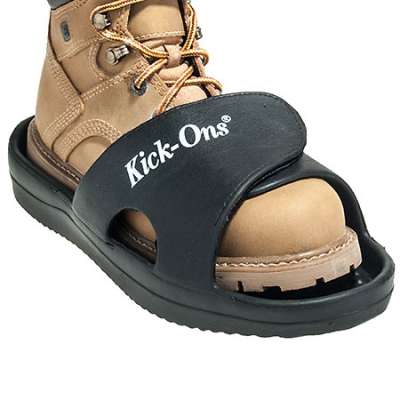 As a working person, you probably take great care in your footwear selection.  You choose the perfect work boots or shoes with all of the features and technology that your job requires.  While your footwear helps you get the job done at work, it is more than likely that it also gets wet, dirty, muddy, and dusty.  Even if your job requires you to be mainly outdoors, there are times when you must come inside to the office or even a client's home.  Working Person Store is now carrying Kick-Ons shoe covers to save you from the embarrassment of tracking in mud, dust, and dirt while allowing you to leave your shoes conveniently on.
Kick-Ons are one of a kind shoe covers made from reusable, washable, and durable EVA rubber-like material.  Disposable shoe covers are often nothing more than a thin paper like lining and they are no match for Kick-Ons which help you save money and create less waste all while saving your carpet and your professional image.  In fact, Kick-Ons promise to last a lifetime so you can feel confident in your purchase.
You may switch out your bulky snow boots for thinner hiking boots in the summer, but you won't have to worry about switching out your Kick-Ons.  They will conform to the size of your shoes and they have adjustable straps.  Their lightweight design makes them perfectly comfortable to walk in, no matter what outdoor shoes you may be wearing.
Even if you don't work outdoors, Kick-Ons have a variety of uses for the entire family.  Protect your bowling and golf shoes without having to remove them for a quick trip to the restroom or car with Kick-Ons.  Or, complete your indoor and outdoor chores without letting any dirt from the yard creep inside.  Kick-Ons are available in black or in hot pink, to let you reflect your personal style and they are available in men's, women's, and children's sizes.
Breeze indoors and out without fear of ruining your shoes, carpet, or flooring with Kick-Ons, now available at Working Person's Store.