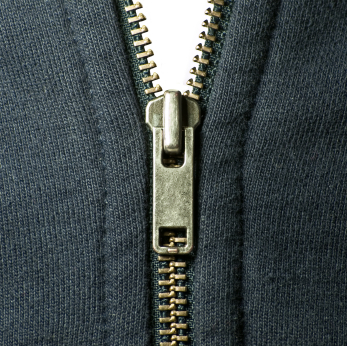 Q: Are metal zippers and snaps on FR workwear unsafe for electrical workers, and are the prohibited by NFPA 70E or ASTM 1506 regulations?
A: Let's take a look at those two regulations:
NFPA 70E
There is only one reference to metal components such as zippers or snaps in NFPA 70E, and it is in Section 130.6 (D):
Conductive Articles Being Worn. It says: "Conductive articles of jewelry and clothing (such as watch bands, bracelets, rings, key chains, necklaces, metalized aprons, cloth with conductive thread, metal headgear, or metal frame glasses) shall not be worn where they present an electrical contact hazard with exposed energized electrical conductors or circuit parts." Whew, that was a mouthful! But basically, what it is saying is that the main concern is about shock, even though an arc hazard would be a concern if a necklace or ring fell off. Snaps or zippers are not an accessory, they are part of the FR clothing, so they're not really the same thing. Of course, having a zipper or snap come loose and fall off your FR workwear could present the same hazard. So as far as NFA 70E is concerned, it is somewhat of a matter of interpretation.
ASTM F1506
This regulation mentions your question in Section 6.1.1, when it says, "If fasteners or closures, for example, zippers, snaps, or buttons, or a combination thereof, are used in a manner in which they are in contact with the skin, they can increase heat transfer and burn injury due to heat conduction or melting on the skin. Fasteners or closures that are used in this manner should be covered with an FR base layer of fabric between the fastener or closure and the skin." Again, another mouthful, but what this regulation is saying is that in the event of an arc flash, the concern is that the metal component on the FR workwear would transfer more heat and cause a more severe burn. It recommends covering up the metal with a fire-resistant base layer of fabric.
Conclusion
It doesn't look like ASTM F1506 or NFPA 70E expressly prohibit the use of metal snaps and zippers. So the question is more of whether or not they present a hazard. There is a written statement by OSHA which involves a similar question, one about the use of metal zippers in a lineman's fire-resistant clothing relating to OSHA 1910.269, which reads, "the metal in a metal zipper is not expected to contribute to the severity of injury sustained by an employee in the event an electric arc occurs. Therefore, provided the surrounding materials meet the Apparel Standard, the metal zipper will be acceptable under paragraph 1910.269(I)(6)(iii)." Essentially, this is saying that in the event of an electrical arc, a zipper on the FR workwear will not contribute to an injury one way or another.
Additionally, industry experts have not found any incidents of a metal zipper or snaps on FR workwear causing a shock or electrical arc. And since sleeve snaps are usually not very big, if the wearer is working energized, the protective gloves they are wearing usually cover the part of the sleeve where the snaps are. YKK, which is a major zipper manufacturer, says that even though metal zippers are made of conductive materials, they have difficulty creating an arc since they are not continuous metal. In addition, most zippers on FR clothing are covered by fabric, which largely insulates it from contact with the skin. This is an industry standard on the inside of the workwear.
So in a final conclusion, the use of metal snaps or zippers on FR garments is not prohibited by any standards, and they haven't been shown to cause any problems. A final decision should rest with the individual organization to assess whether there is any hazard involved. Be sure to follow workplace electrical safety tips to help reduce changes in electrical dangers. And visit WorkingPerson.com for your favorite FR apparel brands like Bulwark, Carhartt, Wrangler, Dragonwear and many more.