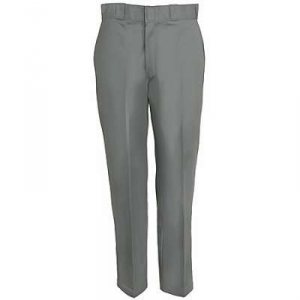 Tough workers around the world, it's time to pay homage to a trusted friend who's stuck close to us for decades. This year marks the 50th anniversary of America's favorite work pants. Dickie's introduced its 874 work pants in 1967 and after years of success, they've become the brand's signature work pant and we all know why.
Part of what makes 874s such a fan favorite is their ease of use. Even though these pants are perfect for dressier occasions or on the job site, they require no dry cleaning and no ironing. They also resist spills, stains and wrinkles and give you a crease down the middle of the legs to keep you looking polished even after a tough day on the job.
If you're a proud owner of 874s you know that not only are these pants dependable and functional, they also provide you with all day comfort. The 874 Work Pants' 65% polyester/35% cotton blend and non-roll waistband give you a soft and perfect fit. The long, tunnel belt loops provide a perfect spot for your favorite belt.
To give you a classic and styled look, 874s feature a slimming flat front and slightly tapered leg. You can choose from the variety of fade-resistant colors that fit your occasion—try blue for the job site, gray for the office or black for your Sunday best. These pants come in 26″ to 72″ waist to deliver the perfect fit for any working man.
Men around the world count on 874s to deliver comfort, style and function when they need it most. Join the brotherhood that puts on 874s each day one leg at a time— and find your pair today at WorkingPerson.com. With our wide selection you'll be sure to find the pair of Dickie's signature pants that's right for you.